Rock 'n' Roll will save the world. It will survive the atomic winter, the expansion of the sun, it has survived festering shoes and a bought of Whooping Cough. I'm talking about Relying On Luck. Having given us a taste of what was to come on the EP at the last Bakehouse Presents show, the trio are all guns blazing for this weekends launch show at The Exeter Beer Garden with Young Offenders, who have to be seen and you'll believe the hype around them too.
Having played host to a number of ballsy launch shows in recent times, late afternoon Exeter gigs have become a prestigious outing with big names like Bad//Dreems, Battlehounds and West Thebarton Brothel Party to name a few, whom have torn the stage apart before your 7pm Zambrero's burrito (extra guac, just take my money).

Relying On Luck are now entering the scarcely charted waters of a band fluid in its sound, moving from a hard thrash metal band into a refined punk "Don't be a dick" group and finally to a powerful rock act and all the way back again. It's what gives them an edge, the edge to take this show on the road.
As the poster says, tomorrow Saturday 9th of May @ 5pm the band will be launching their new EP Wasted Time with a free copy on entry for all the legends that get down there. We highly recommend you hold onto that EP tightly, You're Debt To Me will blow you the fuck away.
Powered by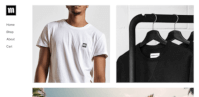 Create your own unique website with customizable templates.