Editorial by Brett Pike

Most days of the year are unremarkable. They begin and end with no lasting memory made in between. Most days have no impact on the course of a life. The last seven days however, holy freaking hell there has been a lot of new music coming out of our city. And a lot of seriously seriously good shit too.
Been So Long
by
Indiago
Recently signing with The A&R Department, rock stalwarts
Indiago
have released their newest single
Been So Long
. To celebrate the launch, the five piece will be putting on another epic show at the Old Mill in Hahndorf at the end of
October
. With a possible debut album coming just around the corner,
Been So Long
is but a glimpse into the future of the hills powerhouse.
Another Realm, Another Day EP
by
Larsen
With a massive release show at the
Ed Castle
, grunge babes
Larsen
are a part of the massive punk, grunge, garage rock conglomerate that is feeding and thriving in the Adelaide scene at the moment.
Follow
is the second single to be released off of the EP, set for its release October 16th.
Loser
by
The Hard Aches
If you love a bit of aussie punk rock, not being a dickhead, and having a top time with your mates, then you outta definitely get around
The Hard Aches
.
Loser
is the first single released by the band since they dropped their debut LP
Pheromones
in May. That's their bread and butter and
The Hard Aches
will be touring this November with
The Bennies
, playing their hometown show at the Unibar Thursday 19th.
You Only Live Twice EP
by
Babes Are Wolves
The highly anticipated debut EP from
Babes Are Wolves
,
You Only Live Twice
is a gritty, tough, hold your beer and your mate five track released by the band after having shacked up writing and recording through the middle of the year. Released on October 16th, the girls will be celebrating the launch with a massive
gig party
at The Jade on the same day.
Take the Dark Way
by
Walking With Thieves
It's been a big week in rock in Adelaide. To cap it all off, one of the locals with the best live showing
Walking With Thieves
are hitting the stage after a little time off to celebrate the release of the newest single
Take the Dark Way
. They'll be tearing
Thrillhouse
a new one on
Saturday October 17th
, almost certainly guaranteed to sell out at the door and the bars to run out of beers. Walking With Thieves live shows are not to be missed, period.
Powered by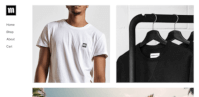 Create your own unique website with customizable templates.