Your favourite fortnightly party just a whole lot better and a whole lot more local. In addition to bringing you some of Adelaide's finest in rock, roll, grunge, punk and garage bands every other Wednesday night, Punk Ass Kids is now introducing The Local Hour from now on, spinning great local tunes while you gear up for the midweeks best night out!
The legends that the Punk Ass Kids are, just keep going from strength to strength, transforming Rocket Bar from a weekend venture into one of the powerhouse feature nights on the Adelaide market. Having hosted an insane company of incredible local bands on stage every other Wednesday over the past 18 months (so much party),
Punk Ass Kids
just got a whole lot more local with their new feature hour
The Local Hour
.
It's too difficult to have every bodies favourite local band raging on stage each week, there's just not enough time. Though one can dream about how epic a night featuring
Grenadiers
,
The Villenettes
,
Dead Joe
and
Young Offenders
would be each night (swoon), but that just isn't possible. So for the first hour at every upcoming
PAK
night, they'll be banging songs exclusively from our own backyard for your pleasure.
Local bands interested in having some of their songs spun at any and all
Punk Ass Kids
night simply need to email
sam.punkasskids@gmail.com
with a high quality mp3 of their songs to have them featured. Likewise, any big fans on the night, loving the tracks and wanting to knock who it is, can head over to the new
Punk Ass Kids
website where they will be featuring the fortnightly playlist.
All the more reason to come out to
Rocket Bar
for the next
Punk Ass Kids
feature, not only to check out the sweet live talent on display, but also you might just hear some familiar songs in the band room too.
Next
PAK
will be on
Wednesday 15th April
with
Dusty Lee's Wasted Wanders, Luke Louie Trio
and
The Lockhearts
(SYD).
Powered by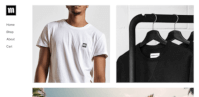 Create your own unique website with customizable templates.