Words by Brett Pike
Well wowee what do we have for you here? We've been completely taken aback by their live presence over the last couple of months, the sheer rawness and grit displayed on stage, with the ability to whip a crowd into a frenzy at the mere sound of their amps turning on. We're talking about
The Unknown Locals
of course. Last month they dropped their debut track and now we have the very good pleasure to give you their follow up single,
Nina
.
Recorded with Colby Robertson (Siamese) at the unofficial home of Swirl Records, Ghost Note Studios, the new release from the guys came out early on in the bands making, being the third track the band had ever written and evolving and growing as the band has over the past year. Nina is about every time you haven quite felt enough of yourself to fit in with someone, how one person has the way to control how you feel about yourself, and really just put you down in the dumps.
It's dark and heavy tones come through instantly from the opening of the track, pulling inspiration from the local powerhouses
West Thebarton
and
Bad//Dreems
to name a few. By far and large, The Unknown Locals are one of the most exciting bands to arrive on the Adelaide scene of late. Honest, gutsy, and with a desire to take this thing all the way.
They'll be launching their debut singles at a (no doubt packed) launch party at
Cats Friday 3rd November
alongside
Mercs
and
The Pool Buoys
, and you better get there early. If you're yet to experience the chaos of their live show, you're in for a treat.
Powered by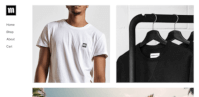 Create your own unique website with customizable templates.