Words by Brett Pike
The greatest power music has in this world is to bring people together, to unify everyone as one and to empower people to push themselves and realise their dreams. It can help heal wounds, help others to understand where we all come from and to share who we really are with the world. In comes
Nvsty Militia
. A hip hop, trap soul fusion forging their own path in the music industry.

Both hailing from Zimbabwe, the two lads arrived in Australia years apart. Twenty two-year old Nvsty T (Taffy Dzimano) coming to this country in 1998 and Nineteen year-old AM (Anesu Matanhire) started off together as part an eight-piece, (also named Nvsty Militia) the boys clicked and came together to form the current duo.

After pushing themselves and sticking to their plan of creating music with a positive message to it, Nvsty Militia dropped their debut single Lit just over a year ago. Things began to pick up for the duo, singing on Ciaran Jordan from Can't Be Stopped Productions, the boys now had management and things started to fall into place.
Meetings with label execs, supporting local MC Allday at Fat Controller, releasing two more singles (Vision and Focus), the work began to grow faster than the boys could keep up with. The passion for the music was still there and it was back to the studio to set about finding themselves as artists and people all over again, and coming to grips with "trying to please others and not succeeding in that".

The premises for the EP is exactly that, channeling their passion for their work, the incoming emotions that come from daily life and attempting to explain and reflect on the relationships the boys hold in their personal life. As Nvsty T goes on to explain;

"Communication has always been a strongpoint for me. Music is a universal language in which everyone can understand, it's more than a catchy jame or a career for me. I grew up watching my mom care for everyone, so I've always wanted to show care to people just as much as she did making people smile, it brings joy to the heart.
​
​I was never great at books but I was great at communicating, I could communicate with my rhymes. The love of hip hop was what connected me with people in Australia. I also found music as a great way to channel the difficulties I faced in my life. I was always an entertainer at a young age, being a dancer and a rapper."
​The first single from the EP,
Discretion
, gives us an insight from what is to come from the rest of the production, delving into the bonds we hold with our passions and those we share with the ones we love, as well as those particular passions and forces that drive us to get the most from ourselves and those around us.
"From a young age I've always had this sense that I had a greater purpose in life. I think this was due to growing up in a home enriched with a drive for success and a strong positive spiritual stance. In school I would joke around, but it was never really me. I did it to try to fit in, as I just wanted to stand out.
​
Towards the end of high school, I really became more serious about life. The real Anesu was ready to make a difference in the world, whether it was through the books, the mic, or both! It's just Family, God & Anesu." says AM.
As we get closer and closer to the release date,
Nvtsy Militia
have promised to release further pieces of the puzzle, for what could be one of the more anticipated and breakthrough releases of the year. If your digging what they've released so far, you can check out the guys on
Facebook
,
Soundcloud
and
Triple J Unearthed
to keep up to date on their upcoming EP!
Powered by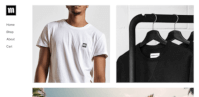 Create your own unique website with customizable templates.