Hydra-rock group West Thebarton Brothel Party are releasing their debut EP this year, great areas Reverend.
Twenty-fiftenn is upon us and so are the expectant releases from so many local musos, it'd be rude not let you know who is doing what and when. We have debut releases from favourites, follow-up pieces and a couple of debut albums to be released (and recorded! *wink wink*) coming our way very very soon. Check out what is to come.
Straight off the middle of the bat and past the cover fieldsman, love child of the great Reverend Ray Dalfsen,
West Thebarton Brothel Party
have their debut EP in its final stages for release. Playing electric shows like their
Glenn McGrath single launch
, supporting fellow hydras in Brisbane's
Velociraptor
and a monumental set at
Hillside at the end of the year
, this release has been a long time coming. Pulled together from local bands
TEA
,
Archers
and
Horror My Friend
,
WTBP
have taken the best parts of these bands and molded them into a mythological creature wielding all manner of instruments. 2015 is the year of the hydra, all hail
West Thebarton Brothel Party
(not those evil dudes from Captain America).
Taking off where West Theb left us, Horror My Friend will be heading to Melbourne later this month, laying the groundwork and recordings for their debut album. Last year saw Horror My Friend release their long-long awaited EP A Millions Hands, we saw a change of drummers, a host of interstate shows providing Josh Battersby with new environments to fall asleep in! This band, creating their own wave of sound and style is undeniably one of the most exciting things coming out of our city since that time Nathan Lyon was lurking at Red Square!
New year new beginnings.
Mogerlaine
is a new project started up by
Nicholas Pipe
and
Ash Matthews
, sending new wave vibes out into the atmosphere.
Intentionalism
is an airy and delicate track recorded at the ever favourite Vagabond Studios, and is off their forthcoming debut EP release to be announced at a later date. Get yourselves familiar with this band, I can guarantee you will see more of them, perhaps even at an upcoming Bakehouse gig? Who knows.
Folk quintet
The Skeleton Club
are heading to the studio to record what will ALSO be their debut EP release. A crowd-funded project, they have a host of goodies available including tshirts, playing a show in your backyard, tickets to the EP launch and more! Having already played an assortment of shows and supports, including sharing stage with
Closure In Moscow
,
Rico Garilli
, and Bakehouse Party bangers
Indiago
, the boys are ready to deliver you something years in the making. Check out their live recordings on their
bandcamp
and if you're feeling generous, head on over to the
Pozible
page as well!
And now we come to Timberwolf. Sold out shows up and down the east coast, numerous festival spots smashed and ready to be smashed, the man is set to release his sophomore EP Flux, in the coming months. Having spent the greater part of last year recording in Cairns before releasing his monumental track It Burns toward the close of the year. Having seen this man wow crowds at intimate gigs at Jive and still deliver an awe inspiring set to a rowdier crowd at Gorgeous Festival, I'm penciling in Flux to be my tip top release of the year.
Powered by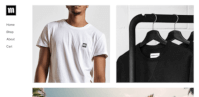 Create your own unique website with customizable templates.