A short drive up the freeway and you'll find yourself on the edge, in the hills district of Mount Barker, home to rock boys Indiago. They've been kicking around for a couple of years now, having first seen them at the Crown & Anchor near three years ago, and more recently headlined a massive night at the Hahndorf Old Mill, the guys have teamed up with Jed Summers in shooting their debut film clip for Fleetwood.
Fleetwood
speaks of a friendship that has broken and a yearning to repair it to where it once stood. T
he camera cruises through the house finding various band members at the scene of the crime, including a sneaky shot of Harry on the can, upon reaching drummer
Shane Cox
in the backyard where the band reforms to play out the song.
Stay up to date with
Indiago
via
facebook
,
bandcamp,
unearthed
and more importantly at a gig soon!
Powered by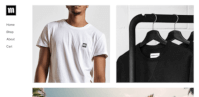 Create your own unique website with customizable templates.