The new music you're hearing today is courtesy of Adelaide's garage seven piece, West Thebarton Brothel Party. Misophonia is straight outta the bands forthcoming debut EP and is a step away from their wailing, brash sound of their earlier two singles Glenn McGrath and Chemotherapy, opting for a more reserved rock sound.
Having clicked themselves into gear over the past twelve months, West Thebarton Brothel Party is progressing out of the shadows and into more dimly lit venues across the city. Expect another packed out launch night and if you haven't even seen them yet, you're seriously wasting your life.

Teaming up with the great people at Clarity Records for their A Day of Clarity festival, the official launch show for the single will take place at The Exeter Beer Garden the afternoon of Saturday May 16th, 5pm kick-off. Joining the guys at the launch show with be best pals Sincerely, Grizzly and lords Slick Arnold.

Misophonia will be available through Mirador Records as of April 27th via bandcamp and iTunes, will the team at Mirador Records also set to launch the upcoming EP release.
Powered by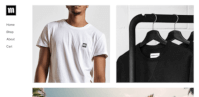 Create your own unique website with customizable templates.