Words by Brett Pike

It's that time of the year all over again. The Adelaide Fringe Festival is back on, leading into (insert sigh here) Mad March, you know that time of the year when everyone who believes nothing ever happens in Adelaide all come out of the woodworks to play. There's more to the Fringe than getting drunk as fuck in the RCC or the Garden of Unearthly Delights, there's compelling stage shows, world class comedians and captivating musicians, such as Louis Donnarumma who will be returning once more with his show Grace: The Songs of Jeff Buckley.

Bringing the sweet and soulful vocals of the late
Jeff Buckley
to life in four highly successful sold out shows at last years Adelaide Fringe Festival,
Louis and co.
will be returning once more with 3 shows at the
Grace Emily Hotel
on
Waymouth St
and one select show at
Hindley Street's
spiritual home of live music,
Jive
.
Having caught the final of his four shows last year as a punter (with every other show sold out), the flair and proficiency of which
Louis Donnarumma
displayed was truly an exceptional performance and a delight to watch. Executing the soaring peaks with expert proficiency, it was almost as if we were taking into one of
Jeff Buckley's
many performances at the renowned
Sin-é Cafe
in New York City, completely captivated by every note.
With the first show starting on Saturday 18th February, we highly recommend getting in early to avoid a bad case of FOMO and drink in every moment. You can pick yourself up a
ticket here
and keep up to date with
Donnarumma right here
.
The video below is of
Louis Donnarumma
covering
Randy Newman's
You've Got a Friend in Me
, shot and edited by
Lewis Brideson.
Powered by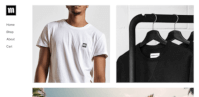 Create your own unique website with customizable templates.