Massive week of gigs in Adelaide. Tours starting, tours finishing, tours halfway through! Album launches, EP launches and all the goodies in between right here in you're very own backyard. Lets get stuck in!
---
Friday 16th -
Closure In Moscow (Melb) are touring their second album at the Pirie & Co. Social Club with support from The Skeleton Club & Lucid Dreams.
Deeeeets
HITS AND PITS
festival have all the punk you're gonna need this weekend. Thrashing into the Gov, get in early and get in the pit.
Saturday 17th -
Hardcore big names
Jack The Giant Killer
are releasing their new CD
Alight
at Fowlers with a huge host of local supports as well (are you game enough?)
Valkyries
and
SuperCaine
are teaming up with Melbourne's Five Mile Town to finish a long-awaited gig at the Crown & Anchor (remember that time it got set on fire?). Round 2. Fingers crossed.
Citizen Kay and
Tkay Maidza
are halfway through their duo tour and stopping by the Pirie & Co. Social Club. One of the best live acts around the country, period.
Event deets
The Timbers
are launching their new album
Lawless
at The Jade Monkey. Support coming from super rock group
The Villenettes
and Louise Adams. More info
here
Bad//Dreems
new single
Dumb Ideas
. It's sick. To support the single they have a show, but if you don't already have a ticket it is most definitely SOLD OUT. Local flannelette believers
West Thebarton Brothel Party
hosting the support at The Exeter.
Sunday 18th -
Jessi Lou & Nathan Solly
in the front bar at the Crown & Anchor. Pretend to be interesting and happening while you listen to some really good live tunes.
Whats that? You want more Baddies? Bad//Dreems and West Thebby have a 2nd show at the Exeter with not many tickets left to go.
Happy hunting this weekend, stay baked.
Powered by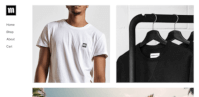 Create your own unique website with customizable templates.