Editorial by Brett Pike

​New music, new music, new mother effing music. We love it all, and here are some five locals who've just dropped videos for their current singles. We love it all, we'll see you at the shows, let's get familiar.
Dream Killer by Mad Cactus

Get your dose of heavy, sweaty, hard hitting rock 'n' roll with Adelaide's newest rock trio, Mad Cactus. How rock 'n' roll should be, a couple of mates crashing about in the back shed, steel caps or bare foot take your pick. If you find yourself in love with anything from Seattle rock roots like Soundgarden and Nirvana to through to The Black Keys, you'll be a fan of Mad Cactus.
River by Mogerlaine

Immerse yourself in the dreamy, new wave sounds of Mogerlaine in their debut clip. Regularly, we will fall in love over and over again to the comfort in Nicholas Pipe's words, the warmth of the song like greeting an old friend after years apart. River is the lead track off of their debut self titled EP, and it's a perfect introduction into their world.
I'm Not Coming Back by Young Offenders

​Almost satanic in the video, the newest single by Young Offenders, I'm Not Coming Back, sees frontman Kyle Landman take control of both lead vocs and guitar with that distinctive YO renegade fashion we've come to love. Fuck all the pre-conceived notions of how they want you to be, and just be you. The lads are backing up their single release with a string of at home and interstate dates including a support at The Jade Monkey with hometown mates Grenadiers and Horror My Friend.
New Age by The New Yorks

A second birthing for the band formerly known as Kindergarten Kings, New Age is the first single off of the bands forthcoming EP which will encompass the maturation of a young band from a group of teenagers to similar group of young adults, with better haircuts and more responsibility.
Live Fast, Diabetes
by
Grenadiers
Coming off the back of last years incredibly successful sophomore album,
Summer
,
Grenadiers
have returned with their single
Live Fast, Diabetes
and have kept the energy high and produced arguably one of the best tracks. Supporting the single, the trio will be hitting the road this month with old mates
Horror My Friend
, with their hometown show
REALLY FUCKING CLOSE
to selling out. Punk music at its finest. High energy, anthem-like delivery, sweaty and covered in beer.
Powered by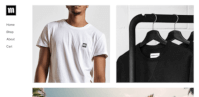 Create your own unique website with customizable templates.