Editorial by Brett Pike

Here at The Bakehouse, we can be mistaken for taking a more relaxed approach to things and enjoying a good night of music and banter, but from time to time we do do that business thing and are out and about checking Adelaide's scene to keep our finger on the pulse. Over the last few months we've kept an eye on the new(ish) talent flourishing in our city. Here are a few picks on the cusp of breaking out this year (or continuing to break through that ceiling).
Joy & Sparks
We may be a little behind in recognizing the transcendence of Joy & Sparks, we just hadn't managed to catch a live set until recently. Other-wordly would be the best way to describe the journey you take when she hits the stage. It's one full of love, soaring vocals and beat heavy rise and falls. Not to be enjoyed in part, but altogether as one whole entity, seizing control of your mind, body and soul.
SIAMESE
Setting the scene with their enthralling shoegaze, at any moment they can and will break out, bursting through into some tasty hard rock/grunge complete with moshpit in tow. The young band has built themselves and exceptional live following, packing out venues across Adelaide regardless of the day be it midweek at
The Exeter
or Friday at
The Metro
, the
SWIRL Records
outfit has a serious buzz about them. Spellbinding live, new releases just around the corner, don't miss out.
Ollie English
Strong, husky, rising and falling vocals. Delicate fingerwork and brazen, unashamed riffs when they're needed. There's a lot to like about Ollie's setup. From a packed out EP launch last December, to an upcoming slot at this years Blenheim Music Festival, the young man is going from strength to strength with his work, and now complimented extremely well by a backing live band, the possibilities are endless.
Mìo
I'm not surprised the duo packed out their first ever show. Their soul rejuvinating, orgasmic dream pop has been recognized nationally with airplay on JJJ's
Home & Hosed
as well as a feature on the
Pilerats blog
.
Mario Spate
(aka local producer
BadCop
) and
Annie Siegmann
(
Valkyries
) are wonderfully in sync with one another on matching the music to the voice. Following their first two single releases, the band has shacked up to write and record more tracks, with many of us on the edge of our seats, eagerly awaiting the result
Roacher Poacher
First stumbling onto the band when a buddy from work tells me he's been jamming with a couple of guys on some good shit, I admit I was a little hesitant at first. But upon listening and seeing the band, any preconceived notions were blown out the door. High energy, a whole lot of fun and a host of reality warping riffs. Roacher Poacher's light-hearted approach to music draws you in and will have a hold on you before you know it.
Powered by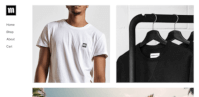 Create your own unique website with customizable templates.