By The Various Bakehouse Contributors

Last year, 2015 was massive. Adelaide bands began to break through nationally, we saw a shit tonne of epic releases, more shows, more events, a real sense of community had come out of the space of twelve months. It has been fucking incredible. We had a look back on our favourite shows, favourite releases, and the next crop of artists ready to kill it in our fair city.
​Foreword by Jacinta Hriskin & Ian Hooper
"I'm not sure about you, but for me, this year has absolutely flown by! It's been a great year of music nationally and locally. Adelaide feels like it's constantly creating and sharing sweet treats with all of us music and nightlife lovers. I wanna give a big props to all the bands that have been working their butts off putting on awesome shows and helping Adelaide stand out for being more than just the festival state." -
Jacinta Hriskin
"In a world that seems more prepared for apocalyptic disaster than next year's tax return, any rumblings seem to be quickly labelled by the masses as a tectonic shift rather than a reshuffle of an old deck. But 2015 has not been all quiet on the
Western Front
. Hillside Studios has changed over and the annual Hillside Fest - at peak, a 25-band multi-stage local music festival - became another Adelaidean memory. Vinyl closed and the hordes boo. Fat Controller reimages The Cavern and the crowds rejoice.

Our humble 5000 receives
UNESCO recognition
as a 'city of music'. Martin Haese confuses an international band for a local one and decides to
make the mistake public
. All in all though, what it has to boil down to is the bands. What have we, as a collective state, put out there? I guess I don't have heaps of space, but here are a few that deserve some recognition - not for any focus on commercial gain but just greatly done tunes." - Ian Hooper
Steph Komar - Contributor, Punk Child, Gig Extraordinaire

Best Local Show
Stonecutters @ Freemasons' Hall. This show was an absolute banger. In fact, it had me seeing a physiotherapist for three weeks post gig. In terms of performance and sound quality though, it was pretty mediocre. The sound was a little jaded, probably from the vastness of the Freemason's Hall, and the overall layout of the hall was kind of dispersed and a little unorganised but it was the atmosphere of the show that absolutely took the cake.

Imagine this massive room with flaky wooden floor boards, fat bleach white marble pillars and high ceilings encompassing a makeshift stage and an even more makeshift bar. Chuck a couple hundred sticky, beer saturated humans into the mix with some incredible musical acts and you've got yourself one hell of a gig. I was feeling pretty confident about life on this particular night and while Baddies were slamming hard on stage I was thinking 'fuck it, let's do some crowd surfing.'

So I get this dude next to me to give me a boost and that was fine, it felt rather empowering to be honest, and with that kind of adrenaline pumping through the room I must have thought I'd take it to the next level and attempted a stage dive. Being pretty small in the mix of moshing intoxicated men, I took a leap of faith and got tossed, literally TOSSED off the crowd and into what I would rate a 10/10 head-first dive straight into those flaky floorboards. My entire spine realigned and it was in that moment of "oh fuck" clarity that I realised I'm probably not as invincible as my young body thinks. My physiotherapy laughed in my face and the lingering back pain served as a constant reminder of the musical insanity that was Stonecutters.


Best Venue & Event
Cobra Presents, Thursday nights at Ancient World. A vibing little hub filled to the brim of interesting people, showcasing synth producers, rock bands, reggae dj's and acoustic jams. What's not to like? The basement feels wholesomely dirty without an actual question of sanitation and the music is never too loud. There are board games to make friends over, ample seating area, some of the most enlightened toilet graffiti in Adelaide and enough cacti and succulent plants to create a homely feel.

Cobra Presents has been running for a year now, featuring 50 different acts over 13 shows, however to be honest I only attended a total of two of these. When Cobra Presents had its first birthday early on in December though, founder of the event Jonty Czuchwicki threw in a hundred dollar bar tab. Yeeeah, that's right, free beer. For $5 entry there was, 13 local artists- some plugged in down the basement, others unplugged and acoustic in the beer garden- and an incredible congregation of music lovers.

Some bands I'd never even heard before completely blew me away- Rat Ta'Mango completely slayed it in the basement and Apollo Sons crammed together for a super stringy acoustic show in the beer garden. It was a beautiful display of local networking and I'm super excited to see more of this.
Meg Tucker - Contributor, World Saver, Legend
Top 3 Tracks
I Know You're Gonna Leave
by
Ollie English
His rolling
bluesy vocals and intricate guitar riffs
make a pleasant change to the upbeat melodramatic love songs you usually hear from guys with guitar his age. The debut EP Cabin Thoughts is full of heart and soul, get it into your earholes.
Misophonia
by
West Thebarton Brothel Party
These guys are a total supergroup who I would have never had the chance to see live if it were not for Brett being sick. It was such a blessing in disguise-for me anyway. The tune Misophonia with the name title meaning 'hatred of sound'
,
is everything you want in a track. It's punchy, loud and nothing too serious. Their promo video voice-over says it all "straight out of the fucking postcode 5031 man, now go and see some more local music". Without fail after one listen or even just thinking about the song intro it gets stuck in my head all day.
Darlin
' by
Sean Howard
I'm a sucker for anything acoustic and even more if the guy playing has a conscious about the environment. He doesn't have much music online, but catch him out at a rouge backyard gig and you can hear it all. Think Matt Corby secret garden tour vibes.

Best Local Show of 2015
Sea Shepherd fundraiser, with craft beers and ciders aplenty all the artists were in good spirits. There's nothing like the s
trong feeling of togetherness, and the feeling when you know you're putting money to something that matters.
Best Local Event of 2015
It was nothing lavish and it didn't cost a dime. Bad//Dreems, Dogs At Bay listening party at Clarity Records. it was a spontaneous decision to go and just proves
the best things in life are free. It was a tiny exclusive live session where they played through the album around about the time it was released, it was something special just for locals it was courteous token before they left to go on tour around the country.
Fave band of the year
Bad//Dreems, A band that needs no introductions, they have made a big name for themselves with album Dogs At Bay. I feel like they sum up my relationship with Adelaide well in this Pilerats interview;
"
I think people from Adelaide like the fact that we're repping Adelaide (I do). However some interviewers have recently said, "You guys write about your love for Adelaide", and I say, "I wouldn't call it love, it's just that Adelaide is where we're from and like your hometown there are things you love and hate." I love them for keeping it real, and for capturing the underground SA scene so well in the album.
"
Ian Hooper - Contributor, All Time Legend, 10/10 Human Being

​Favourite Releases
Pheromones by The Hard Aches. Catchy and raucous heartfelt punk-bleached alt rock done to a tee. Ben David (guitar/vox) knows how to write a song and has been speaking to our hearts for quite a while, but it has completely been their year. With a spot on next year's Laneway, being voted in the top 10 quiet achievers of the year by Triple J Unearthed, and still taking time out to skate the halfpipe in their backyard, these guys are evidence that the bastardised Western version of karma actually exists.

Everything Sucks Now That I'm Awesome by Hi, I'm Reclusive Author Thomas Pynchon.
Released early enough that it could have gone by unnoticed, the guys from HIRATP (which is a ridiculous acronym) have provided a fuzzy power pop album that could have been released in 1996. Instead, they all got lost in space-time transit, became distracted by making catboarding videos, and put this out just now. Honest sentiment and honed songwriting make this stand out without merely existing as nostalgic mimicry.

Honourable mentions too to the Rule Of Thirds s/t7", Raccoon City Police Department's Halloween Album Raccoon City Presents: A Very Spooky Hallomeme and The Sunbirds Double-A Birds' Eye Viewin'/Seaweed.
Best Live Band
Sons of Zoku. As a city, we seem to have a thing for psych bands. Some great ones have come and gone, and some awesome ones are definitely still kicking, with most fitting into one of two main types: 70s Stoners and 90s Droners. What seems different about Zoku is their ability not only touch on these two types, but to also connect the universal spiritual energy and individual emotional intensity reminiscent of 1960s-era open-mindedness . There aren't many bands that can captivate for a full set, let alone make the full set pretty much one constant song, but to do both is an incredible testament to their arrangement and sheer hard work. This year they have put time into the stage, playing just shy of 35 shows, including Going Steady Fest, F@#K Stereo's, and the Vision Festival Afterparty. Hopefully we can expect a physical release that will resemble an experiential journey in
2016.
Jacinta Hriskin - Contributor, Globe trooter, Crowdsurfer

Best Event of 2015
There were so many good gigs, but I'd have to say my favourite local act was the Stonecutters gig at the Freemason's Hall in September. 5/4 Entertainment set up an incredible lineup of local acts including Bad//Dreems, Hightime, God God Dammit Dammit, Horror My Friend, The Hard Aches, Young Offenders and Tall Enough To See. I mean, it was almost festival material. All the bands absolutely killed it that night. The venue was pretty spectacular too, teamed with a dedicated audience throughout. I even unwillingly found myself crowdsurfing at one point during Bad//Dreems' set. No regrets.
​
The Year That ... Killed It
One band who certainly has had an amazing year is Grenadiers. They kicked off the year with the release of their second album Summer in January and have been flying ever since. This album is solid rock and roll. If you're after hard hitting, fast strumming and head banging, then Summer ticks all the boxes. It is a very high energy album, and also has extremely cool breakdowns. I was lucky to catch them fresh from an East Coast tour back home at Ancient World in April for a very packed out, sweaty and memorable gig. They sound great live, and just as good on record.

Next Year's Musical Direction
I'll be honest, when I'm not following Adelaide's scene, Triple J is where I hear about a lot of new music. Recently, there's been a few bands with a punky, suburban rock sound. Think the likes of The Bennies, Smith Street Band and Violent Soho. This sound will definitely carry over to next year, but I'm also predicting a big push from Australian bands with a roots sound. Cruisy acoustics and heartfelt lyrics may creep their way into the Australian music scene next year. Will we have Australia's answer to Ed Sheeran? Let's see.
Brett Pike - Founder, Shoe Brewer, Moshpitter

Top 3 Tracks
Neverland by Mìo
Everything about this song. Lyrically, production, hooking you in and falling in love. Absolutely crushed their debut show and cannot wait for more of this in my mind, body and soul.

Holiday by Orelia
Need something to pick you up, get your body moving and feel 12/10 about life? Through a gloomy as hell winter, those piano chords and crisp vocals just kept lifting my spirits, soaring ever higher. Two musicians who really understand each other and the direction they are heading absolutely does wonders when they write tracks like these.

I Get Like This by The Hard Aches
Came home from a house party with a message linking me to this video. Continued to play on repeat for 4 hours at 5am that Sunday morning riding the adrenaline through the day despite not sleeping for two days. A beer soaked, backyard anthem for anyone living in a sharehouse with not enough money for rent but just enough for another carton of piss.

Favourite Band of 2015
Without any doubt in my mind it has to be Slick Arnold. I keep finding myself blown away by this band, everyone is probably sick and tired of hearing me rave on about them but if you've caught them in the last 12 months you'll know why. They just keep going from strength to strength and could not be more proud of the guys.

Best Live Set of 2015
Archangel's show to a capacity crowd at FutureSounds V. The fire coming out of this guy, the whole crowd jumping and getting involved in the moment, was another level. Anyone who was there would agree that it was something else. Just so much heat, so much everything. Insane.
​
Hitting The Big Time in 2016
Mìo and Ollie English. Seeing both artists perform just the one time was more than enough to convince me that they have what it takes to make it on the national scale. Ollie's uncanny guitar work and soaring vocals coupled with his songwriting ability gives him all the weapons to break apart the nation. Mio's talent to construct a song that pierces through the physical and make a deep emotional connection all the while leaving your body in a trance of beats and rolling waves.


Can't Wait For ... in 2016
That debut fucking album from Horror My Friend to drop. Years in the making, this band is a chameleon of sounds moving through cruisy songs like Urgency, to the brash punks of Nothing, to the epics of A Million Hands and quinoa rock sounds of Stay In. Whatever it is, I know I want more of it, and couldn't be happier for the lads and just all of the beers. So fucking proud. Just fucking release it already.
Twenty Fifteen was fucking huge. But we have plans in the works already for an even bigger year this year. As always, see you out at the shows, look after yourselves and your mates and continue to be a fucking legend for supporting everyone who makes your life incredible.
Powered by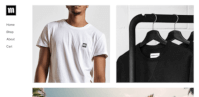 Create your own unique website with customizable templates.