Interview by Brett Pike

Residing in the states' south east centre, Bianca Jane has grown up on a diet of punk rock, hardcore and acoustic ballads ranging from local powerhouses I Exalt and Mayweather to the likes of Jesse Davidson and former Mt Gambier residents Orelia. Growing up playing guitar, it was only until a few years that she discovered her vocal talents too and since then has taken her skills with her to the studio to record what has become her soon to be released debut EP Cheap Rumours.
Powered by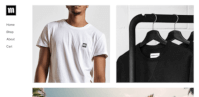 Create your own unique website with customizable templates.