Interview by Brett Pike
With 2014 now coming into frame, we have more band interviews, more reviews and as much love as we can give for all the live music in our wonderful city. First off the ranks, I shot off of some Q's to
Young Offenders
, a punk band drawing on English / US punk roots and delivering a phenomenal sound. I was impressed with the first outing I saw when they opened for
The Cribs
late last year particularly with their guitarist
Brad Vowles
whom I consider to be one of the most talented guitarists going around.
You can catch these guys playing at Plus One on Jan 25th, Straya Day Eve. Deets for that show are
here
.
Young Offenders, where does the name come from? Were you all serial criminals at some stage in your childhood?
Only minor offences nothing too serious. Kyle just thought of it one day.
A year into the bands life. How is the band developing?
Its changes every week, the more and more we play together the sound changes. It used to be
Kyle's
songs that we all learnt but as we play the songs more and more we develop our own style and way to play each song. And then the songs we have written more recently are changing in style depending on what we're listening to at the time. It's indie punk but branching out in all directions.
I managed to catch you guys open for The Cribs. The thing that stood out immediately was there was a lot of YO fans at that show. How was that for you?
It was really cool to have our family and friends there. We've been pretty lucky to have such a continued support. It's always nice to play to people and because they're always there singing and dancing along it encourages others to join in. We always appreciate it.
You gave out a whole bunch of free stuff at that show as well, I managed to get my hands on a CD. What was the thought into giving away all that merch?
We just wanted to get our songs our there. We recorded a double single with Matt Hills at Hillside studios that we had available for free on the night. You can download both tracks for free still on
triple j unearthed
.
Your guitarist Brad Vowles is incredible. What's in his kit bag and what does he bring to the band?
Anything that's not broken.
Brad
tends to have a habit of breaking anything and everything he touches! He uses a Fender Japanese strat and a Marshall 100w combo amp. His pedals include;
Electroharmonix - Little Big Muff & Cathedral
Boss - DD3, TU3 and CH1
MXR 78' Distortion
Vox V847 wah
Brad
brings a very
John Frusciante
feel to the band, always wants to jam and make stuff up on the spot. It wouldn't be the same without him.
With Kyle on vocals, it brings a Brit-rock feel to sound. Reminiscent of an earlier Arctic Monkeys or The Clash. Definitely a different element to an aussie band.
We got lucky with a frontman like
Kyle
, him being from England and his influence of UK artists definitely adds depth to the band and gives us a distinctive sound. We try not to follow a single formula, we take influence from all genres, one minute we're listening to early UK punk, the next we'll all be jamming to the
Chilli Peppers
. We like to incorporate all of our tastes into the writing process.
At the end of last year, you spent some time in the studio did you not? Is there something coming on the horizon with those recordings?
We recorded a couple of songs with Josh Bills at Vagabond studios just before Xmas. We have just uploaded the video onto our Facebook page and YouTube it's called
Watch This City Burn
. We will hopefully be recording our first EP early this year!
Favourite party drinking game?
What party? We weren't invited.
Powered by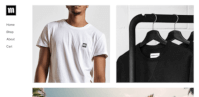 Create your own unique website with customizable templates.