Interview by Brett Pike

Indiago are a band from the Adelaide Hills who last week released their self-titled debut EP. Their hard edge rock has booked them supports for The Getaway Plan as well as a huge supporter base across Adelaide. With monster tracks like Sit Down and She, it's no surprise these guys are making waves on the market. Next Saturday night is their launch with Plus One. It's gonna be mental.

Where does the name Indiago come from and can you give us a bit of a background on the band?

Will: Sure, pretty shallow story really. It all began from a nickname that I used to call the guitarist, James, I used to call him Diego. Goes back a very long time, think of the origins of Ice Age the movie. Used to call him Diego and then yeah just out of nowhere we were looking at some band names and someone came up with Indiago.


How long ago did you guys decide you were gonna record the EP? How long did the recording take?

Will: Well it was a while back I mean we did our first demos in 2011 and basically from then on we knew we needed to get into a proper studio and get an EP out and obviously two years later before we actually got our shit together and did it. Just people were away and all sorts of stuff were happening. People were travelling, family stuff and mainly the whole writing thing and trying to get our live shows together. Gigging makes your tracks expand and get more depth to them and make them better tracks to what they were two years ago.

The best thing to do was to find the exact studio that we wanted to use and we wanted to do something that was back to its roots, back to the old school rock and roll, doing things over and over again. No excess amount of computer usage with the recording, no digital stuff. We had a few different options, one of them was the guys from….. can't remember but we decided not go with them because they wanted to do tracking of drums on computers, they even wanted to do some of the guitars themselves to save us time and money. We would've got possibly a similar result, but we never wanted to have our first album with us not playing on there. Course the drummer (Shane Cox) as soon as he heard that "Well count me out if we're recording on computers". Yeah, so we had to do something back to the roots, back to rock and roll so we went to Hothouse which they're really really cool. They're just old school everything, if you need comes help, reaching out to you, it was really cool.


Oh brilliant. If you were talking to someone who has never heard by you guys before, what can they expect to hear from the EP?

Will: The EP especially, it's very best of. It pretty much shows five tracks from end to end. From the quietest emotional stuff to much faster, energetic pop sort of stuff. Really shows an array of what we do. As far as on it goes and what to expect, I suppose alternative rock, something for everyone on there, nothing too heavy but definitely nothing too pussy. I guess that's how I'd put it.


Fair enough! Launch party is next Saturday night with Plus One, what's in store for that?

Will: Should be pretty good, should be pretty packed out. I know the Violent Soho DJs are playing afterwards so that'll be a bit of a crowd drawer as well. Basically it will be us playing the EP end to end with maybe chucking in a few little tracks as well. Our live shows tend to get mental which is really cool. We've got a strong, really good following, and at every live show they get a bit loose which is exactly what we want. Imagine mental teenagers jumping around and having a good time.

Well if you've got the guys from Violent Soho coming around after their Unibar gig that'll be pretty tight.

Will: Hey, that will be real cool. We've tried to get onto spots with them before so it will get pretty packed out after.


So who are some of your favourite bands to play with or favourite shows you guys have done so far?

Will: Playing and partying with The Getaway Plan was pretty cool and that was sort of early on for us so that was pretty awesome. Being on the Echo Festival lineup with people like The Killgirls, Salvadors, Bad//Dreems that was pretty cool too. Places that we've played, the Royal Show was awesome having such a massive crowd, being able to promote ourselves that way. I think for us the shows that go off the most are the smaller ones, local ones where everyone knows the tunes, everyone is there so see us and really get into it.


If you guys were given the opportunity to open any festival coming round this summer (Big Day Out, Laneway, Soundwave etc.) which one would you pick and why?

Will: If we had to pick one I think it would be either Falls or Pyramid Rock. Just because they're massive three day festivals and it would mean having a massive trip for us lads over there and those are two of the biggest festivals. But I dunno if you would've heard the whole Groovin' The Moo thing coming to Oakbank which is pretty damn cool and for us it's real close like 10-15 minutes away coz we're hills boys. It would be absolutely amazing to get on that lineup and think we could be within a chance.


Where to now for the band?

Will: For us it's focusing on festival lineups and back to the drawing board I guess perfecting a few more tracks and depending on how well this EP is received we can get something together for the full album within the next year or so. But yeah festival lineups and stuff is where we are fixed on, that's where the next sort of step is. For us getting some bigger gigs, getting some support slots with bigger Aussie rock bands.


Last one, who's the worst beer pong player in the band?

Will: The worst beer pong player in the band would have to be Shane our drummer. Something about his throwing ability, he had the nickname Custard back in high school just because he had a custard arm and couldn't throw. I dunno what it is he just, he's gonna hate me for saying this, he just sucks at anything that involves sport and drinking.

Just shithouse?

Will: Basically yeah.


Powered by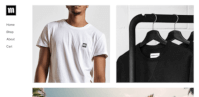 Create your own unique website with customizable templates.