Interview by Brett Pike

Last Sunday night, I headed over to North Adelaide and caught up with Walking With Thieves(minus guitarist Luke Busuttil) to talk about the upcoming release of their debut EP, What's Left Of Your Head. We talk winning the National Campus Band Comp, EP Launch Party and a few sneaky tips on this weeks AFL Grand Final.
The EP that's coming out in a couple of weeks, What's Left Of Your Head, it's your first (physical) release. Are you guys anxious, excited, nervous about it?
Cam
: I think all of the above.
Jesse
: I think finally everything is coming together so it's more excited than anxious now. In the last couple months it has been anxious but now it's getting exciting.
Cam
: It was anxious during the whole time when we were getting prepared for the launch party coz there was just so much involved but now we're just on the home stretch and we've got everything sorted so it's all excitement now.
So it's been two years in the making, since Walking With Thieves formed, when did you decide you were getting things in place and get the EP done?
Dillon
: Ah well probably when we won the band comp I guess because then that enabled us, with the studio time at Chapel Lane. So we're like yeah we're confident in the tracks that we had and we thought it was the right, thought we were prepared enough
With the National Campus Band Competition, you guys won that last year, can you tell us a bit about that and how it's kind of kick started you guys?
Cam
: It was just really awesome. We played the Adelaide Uni heats, we played with a lot of cool local bands who we've since played with a lot as well. There were a couple of heats and a state final at Fowlers, which Randy was actually sick for.
Randy
: Yeah I had pneumonia, I was spewing about that.
Cam
: So we all kinda just had a bit of a huddle before we went on stage, the other four of us, oh nothing to lose screw it. We went out and won that and the national final.
Jesse
: The further we got in, the more we realised how this actually could, we didn't enter it thinking we were going to win or planning that or prizes.
Randy:
It was a no lose situation. Even if you didn't win you'd network and some other prizes and it was only positive things to be taken from it.
Jesse
: And winning it was just a massive bonus.
What are some of the bands you guys listened to growing up do you reckon that has been a pretty heavy influence in the sound Walking With Thieves are putting out?
Jesse
: Yeah, it's kinda cool coz everyone grew up listening to different things and that's one of the main reasons we sound sort of different I suppose. We all have different influences.
Cam
: I grew up listening to a lot of classic rock with dad and then when I started listening to my own music, Rage Against The Machine and that kind of stuff.
Jesse
: Probably the modern rock like RATM, System Of A Down is the only thing we all agree.
Dillon
: We have a couple of bands but everything else just branches out. Everyone has their own approach I guess to what they do and what they like and somehow when we're all in the room together it comes out sounding kind of semi-cohesive I hope.
Cam
: Somehow all of those ingredients taste good.
You guys retracked Cannon, previously there was a live one (recording) last year and recently has sort of exploded on Unearthed, it has gone straight up the charts.
Randy
: Pretty surprised.
Cam
: I didn't expect it to go that high to be honest. #7 on the Rock tracks and it gets updated tomorrow so we'll see how it goes.
Jesse
: Hopefully it's gone up again.
Cam
: It is good to see. Have our name amongst a lot of really good Australian bands in our genre, it'd be good to start playing and touring with some of them.
Jesse
: It's definitely exciting having a product finally. We've always had our live shows and we've had our songs in our room but no finished product. Finally having that, and having people listen to it and like it is a pretty good feeling.
What's in store for the launch party at Fowlers in a couple of weeks. Can you say much about that yet?
Cam
: Yeah we could talk about it.
Randy
: No little secrets.
Cam
: We're not playing with any other bands, we've decided to have a couple of DJs so that when we're not playing everyone can mill around and talk and drink. It's a party, less a concert more a party.
Randy
: Approaching it differently for sure.
Cam
: Exactly. So people rock up, get some drinks, listen to the DJ and then we'll play our big set close and then Seek n Destroy comes on and plays some banging tunes.
Randy
: And of course there will be the CDs and shirts. All the usual stuff.
Cam
: Yeah we're giving a free copy of the EP to everyone that comes through the door just to get in people's hands.
Dillon
: We wanna get like Flip Cup but I'm not sure if they're gonna allow that at Fowlers, it's gonna get messy.
Cam
: Little drinking games corner.
Well I've been to some wild stuff at Fowlers and I saw DZ Deathrays at Laneway a few years ago and we were just drinking tequila out of the bottle and that got wild. So if you're looking for a measuring stick, you can push it.
The National Campus Band Competition last year, the EP this year, what about next year? Have you guys looked that far ahead yet?
Randy
: Definitely started thinking about it.
Cam
: I think I speak for everyone when I say we'd love to tour.
Jesse
: Yeah we'd love to go up to Sydney and Melbourne that'd be awesome. And we would like to get into Bigsound.
Cam
: Bigsound music conference up in Queensland every year, there's heaps of industry people and hundreds of bands all playing.
Jesse
: Again there's another networking and getting our name out there and getting into the industry a bit more I suppose. I guess that's what next year will be about, finally having this release will allow us to try and push more into the actual industry side of it.
Dillon
: Constantly working hard. You can't stop, if you don't keep busy. You've gotta start doing something with it, you've gotta be pushing it (the EP), shopping it around.
Cam
: This EP, it's like a tool for us now. It's something to wield as we go on, so when you're having a conversation you can say "Oh look here's our EP" as opposed to, up until now it's been "Yeah we have some recordings…"
Dillon
: Yeah it's been, what do we even do, where do we exist as a band.
Cam
: We don't have to rely on them seeing us a band live.
Finally, (AFL) Grand Final tips?
Dillon
: Oh. I've been riding Freo since the finals started, if you want an outside chance get on Freo.
Jesse
: Well I want Freo to win but logically I'd say the Hawks.
Cam
: I think I'm gonna go the safe bet and go the Hawks, with Cyril back in they'll tear up.
Randy
: I'm actually with Dillz on this one, I saw their game against Sydney last night and they have a chance.
Jesse
: There's something about, it's their first grand final ever, they're gonna be pumped.
Dillon
: They're supporters were arking up!
Jesse
: The whole of Perth is going to be going mental.
You can catch their launch party
Friday 11th October at Fowlers
or check out their current monster single Cannon on their Triple J Unearthed page
here
Powered by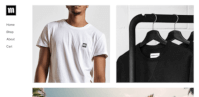 Create your own unique website with customizable templates.