Words by Brett Pike
Two singles down. An EP on the way in the new year. National airplay on
Triple J's Short.fast.loud
program a couple of weeks ago. A full house at a number of venues across the city, all within the first six months. If
TOWNS
were a movie, it'd be 1993's
Rookie Of The Year
(minus the broken arm and baseball thing), with the two piece rapidly rising to the top of Adelaide's live scene. We caught up with
Aston
and
Dan
post-single launch in a shonky looking back room at
Fat Controller
for a chat about their EP
Sonder
, the outrageous reception so far and free food at events.
First of all, how f**king good was tonight?!
Aston: It was crazy man, I wasn't ever expecting to play at Fat Controller and Sam Lavers (Zen Panda) hit us up to see if we were free to play the date and I said "Nah that's cool mate we've got a single coming out can we launch it there?" and he said fuck yeah! So that's really how all of that came about. We didn't really have any plans to release/launch the song (second single 'Sun') but the show basically forced our hand.

So what was it, five/six months ago you were playing a Levi's show in Rundle Mall and now you're playing a launch show at Fats, how does that all happen?
Aston: Yeah it's pretty crazy. We actually started for that Levi's show because the opportunity came up to play it, we had some songs written as well so we thought we'll record a song, 'I Don't Mind', and we sent it off and they said cool you can play. So we did it and theeeeeen people liked it, which we didn't really expect, and then we decided to play some shows and it went from there. It's crazy because we wrote these songs for fun and then to see people start singing it too.
And then it got played on Triple J as well!
Aston: Yeah that's just crazy, I remember the first time I heard it being played on Triple J, I couldn't really fathom that a song we recorded in a day just for fun had gotten that far.

So where does TOWNS sit on the musical spectrum because you've got Dead Ties which is coming from metal, Dan in Heaps Good Friends which is pop, TOWNS in its garage punk blend and then when I've seen Dan DJ it's been all RnB sorta stuff. Where does it all fit in?
Dan: Just like a bit of Vanessa Amorosi and Metallica. 'Absolutely Everybody' and 'Enter Sandman'. Right between those two is us. It would have to be something like Elton John's 'Crocodile Rock' and 'Raining Blood' by Slayer, smack bang in the middle of those two. It's a diverse scale with heaps of little increments in between. We really we listen to absolutely everything.
And now we've got the EP Sonder coming out next year yeah?
Aston: Yeah so that'll be coming out some time next year, we've got all the songs recorded and we've released two of them already (I Don't Mind and Sun) and there's another five there. Whether they all make the cut, it's still a maybe right now but we do plan to release another song and another video at the start of the year. So there's more songs I promise, we've got more than two songs haha. They're coming just settle down they're coming haha.
Well considering you've now done the single launch at Fat Controller, where do you think the EP launch will be? Thebby?
Aston: That's the thing man we were so skeptical about even doing a single launch. We just wanted to release and see how it goes. We didn't ever think that we would do a single launch because really, we didn't think we had a single to launch. And now, to have released a song about a week ago come out and play it here to a full room of people was awesome. It was my favourite show to date, I can't speak for Dan but yeah that's my favourite one to date.

So with next year coming up then, do you guys have any plans to play national conferences? BIGSOUND, Face The Music, Day of Clarity, that sort of thing?
Aston: Well I mean that would be awesome and we'd love to. We really started this band with no real rules, let's just do we want and not put labels on shit and do this and that and take shows with really any band because we just want to play shows with our friends. So I mean, if we got asked to play a conference of course we'd fucking do it. Of course.
I remember seeing you guys open up the other week at the Larsen album launch and there being about 50 odd people there already to see the first band of the night, 8:30pm on a Saturday, all at the front singing along to I Don't Mind, it was crazy!
Aston
:
That's it man, I don't even know how to deal with that sort of thing. And the same with tonight having everybody sing along with us as well. I think I'm still on the verge of "I don't believe it, you don't really like this song do you?". It's crazy. I think that me and Dan have been trying to start a band together since we met and I heard he played drums, and we ended up writing a bunch of songs and nothing happened and then we wrote some more songs and nothing happened and he released 'I Don't Mind' without telling me and that was the best thing we ever did.
Do you look at how other two piece bands around Australia are performing and draw from them?
Aston
:
Yeah well seeing Hockey Dad play Splendour In The Grass this year was a huge boost for us because if a two piece band with just a guitar, vocals and drums can play that. We were so scared that being a two piece we weren't going to be able to take this anywhere, so yeah that was a real drive for us. There's so many good two piece bands about like The Hard Aches from Adelaide, another band called Totty who I'm fairly sure started out as a two piece as well. It's good that there's no pressure to be a four piece or a five piece band you know? We've thought about bringing in a bass player and trying to conform but then if we bring anyone else in then it might fuck with our 'take it as it comes flow' so if it ain't broke don't fix it you know.
What's the best free food at an event? Coz I heard there was burgers at the SAM Awards and I wanted to get your take on it.
Dan
:
Ohhh Aston loves arancini balls!
Aston
:
Oh yeah arancini balls yes. But you need to be giving people a napoletana sauce with it, don't be giving a man a dry arancini ball come on!
Well what about a good garlic aoili?
Aston
:
Yeah that's fine I just don't want a dry arancini ball you know. That or some spinach and feta parcels. Those are my two favourites.
Dan
:
Curry puffs?
Aston
:
Oh nup can't do that.
Samosas?
Dan
:
Yeah I could do that. See, Aston's got a little bit of Indian in him right and he doesn't like curry. So we're defying stereostypes here which is great.
What about a good onion bhaji?
Aston
:
I just grew up with so much curry, it was just all too much. Like all the tumeric man
But think of the anti-oxidants!
Dan
:
He hates anti-oxidants!
Aston
:
I know but I remember this one time my nana made me make masala in the kitchen and we had to wear gas masks and protective goggles because it was so spicy and strong. I was like eight years old man I thought I was on Breaking Bad! So yeah I mean 15 years ago I probably made drugs (with my nana) but hey what are you going to do
.
TOWNS
are playing their next show just shy of four weeks time at
Our Place // The Festival
at the Glenelg Backpackers on Saturday December 16th. I know you're going to have to wait until the new year until we hear anymore new music from the duo but bear in mind, if the rest of the EP sounds like the first two singles that have dropped so far, it's gonna be a bloody belter.
Powered by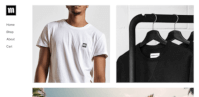 Create your own unique website with customizable templates.