Interview by Brett Pike

Last Tuesday we had a chat with singer songwriter Chris Panousakis aka local folk artist Timberwolf about the highlights of his current tour through Adelaide, Sydney and this weekend onto the Apollo Bay Music Festival, what started his career music and playing alongside an artist like Wally De Backer (Gotye for those of you playing at home).


Chris
grew up in a musical home where he regularly had guitars around the place to practice on and work on his skills, though it was only really a spark during his final year in a physiotherapy degree that Chris decided he should tackle his music head on.
"
In the last two years I've had a fire up my ass saying you should do something with it. I was doing a uni degree and towards the end of it I got really sick of it. I decided I should try and make something out of my music because it's what comes naturally and what makes me most happy."
Upon this epiphany,
Chris Panousakis
began writing and working on songs that would come to be his first EP,
Man & Moon
, released last year. Having success on the Triple J Unearthed, reaching number 1 on the Roots Charts with his first single
Garden
(recorded at home) and more airplay on Triple J with next two singles
Grace
(currently number 3 on Roots) and
Into The Cold
, Chris spent much of last year becoming a sound touring artist.
Currently he is finishing up his
Live Sessions
tour before heading back into the studio to record what his be the follow to his debut EP including a show in Adelaide providing a highlight of the tour.
"Flower party was insane, flower party was ridiculous. There was about 700 people floating around the queen's theatre or just under that. There were people crowd surfing and I ended up playing a guitar solo on someone's shoulders for Jimmy & the Mirrors. And that was quite possibly the wildest experience of my life today."
(On playing alongside an artist like
Wally De Backer
at
Apollo Bay Music Festival
this weekend)
"He's such a nice guy, when I did the lead guitar for Kaurna Cronin as well when Kaurna did festival of the sun and I think the basics played there too. Walking around backstage Wally's just this absolute legend. He talks to everyone, he's really nice. It's ridiculous, he's probably the biggest artist to come out of Australia (recently) arguably. So it's nice to be on the same bill, I'll put it this way I'm very lucky, bit humbled by some pretty big artists. Pretty keen to hang out with him and have some chats, talk about music if I can."
With last year's debut EP under the belt, following the extensive touring and rubbing shoulders with some east coast industry heads as well as a few massive music exports from our country,
Chris
is taking himself to the far north of the country, way up to Cairns to record with
Matt Myers
and to get some evolution into the music for the second EP.
" I've got a lot of roots in electric guitar. That's kind of my strongest point of my playing, whereas I wrote a lot of songs, a lot of simple songs like my previous EP. So I think this time I'm gonna make the most out of the fact that I can play electric guitar and know some pretty weird chords.""You don't want to get it too detached from your roots, if it can evolve into a more electric guitar based thing I think I'd be pretty happy with that. And that's not to say it has to be distorted solos. Some nice clean chords, I dig that sound."
Insert final question, with some help from late nights and watching
Almost Famous
too many times, Chris also tells us what he loves about music.
"It's an absolute weapon. It's happened to me where I've gone to see live shows where you walk away and you never forget it. It changes your emotions, your mood, the way you approach life. It's so powerful."
In the meantime while we wait for another Adelaide
Timberwolf
gig, you can listen to some of their stuff currently floating around on
Timberwolf's
Unearthed
page and similarly you can also purchase a whole bunch of rad stuff on the website as well.
Check it all out
, I fucking love it.
Powered by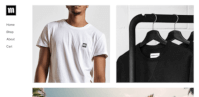 Create your own unique website with customizable templates.