Interview by Jacinta Hriskin

The Villenettes are a girl band from Adelaide who ace 50s rock and roll music with a dash of punk attitude and style. They've recently been residing at the Crown and Anchor on Monday nights, but come July they'll be residing down the other end of town at the Grace Emily every Friday. They've played many local shows, roller derby events, and even hit up some gigs in Melbourne. They exposed themselves February last year with their debut EP, and we can look forward to another release toward the end of the this year! I caught up with the girls to find out what life is like in the world of The Villenettes.

The Villenettes are a badass rock and roll girl group, how did the four of you get together and create your band name?

Clair: We all met through Gumtree music classifieds except for Jess who was suggested to Anna by a friend. We were lucky enough to all be looking for the same type of band at the same time. Our first time jamming together was in my lounge room and we all just clicked. We brainstormed the name during a band practice. We wanted a Tarantino-esque name to fit our style, so we went trough different comic books and graphic novels to get inspiration. We democratically decided that The Villenettes suited.


You're influenced by the likes of many 50s and early 60s rock and roll artists like Elvis Presley, Chuck Berry and Eddie Cochran. Do you all share the same influences or have each of you brought something different to the band?

Clair: We share a lot of interests but we also come from completely different musical backgrounds. Jess has a blues background while Kylie played in The Beatles cover bands, Anna sung in heavy prog style bands and I have a hardcore and punk background. So we're a pretty mixed bag but I think all of our different backgrounds have positively contributed to our sound.


What's your favourite venue to play at in Adelaide and why?

Clair: I think its fair to say that the Crown and Anchor is our favorite venue to play and drink at. If you stumble in there on a saturday night you are likely to find at least one Villenette. The sound techs and bar staff are great and we're always received really well there.


You've been performing at some roller derby shows recently. How did you get into that and tell us how the day runs?

Jess: We've all been fans of roller derby over the years, and even before we had this band I always thought it would be really fun to play at the derby. We emailed the organisers to get our slot and we've done it the last 2 years. Its awesome playing to a big new crowd and its always an exciting atmosphere. This year we played a double header bout so we did 4 sets before and during halftime of each bout, our songs are really short most are around 2 minutes so we had to play ALOT of songs.


If you could support any artist dead or alive, who would it be?

Jess: Its got to be the The King Elvis Presley. I'm gonna go for young, hot Elvis as opposed to fat Vegas Elvis. Maybe he could sing a duet with us? haha I actually have a life-size cardboard cut out of Elvis from Jailhouse Rock. We used to bring him to rehearsals for inspiration. I even brought him to our EP launch last year, the cab driver gave me some pretty weird looks.


Who's your favourite local band at the moment?

Jess: My favourite local band is Max Savage & The False Idols, I mean who couldn't love a band of men in cowboy shirts? Other notable mentions are: The Dunes, Kitchen Witch and Big Richard Insect.


You describe yourselves as a combination of rockabilly, surf-rock and zombie punk. How important is the band's appearance for gigs, in terms of the hairstyles, outfits and makeup? Is it a package deal?

Jess: When we first started the band we actually spent hours on our hairstyles and makeup for the first gig or two, then we realised that we were wasting precious drinking time, so we have chilled out a lot on that. We probably started out with more of a vintage pinup look but our style has evolved to be a bit more punk. Our favourite things are anything leopard print, western shirts, brothel creepers and leather jackets.
We still like to dress "villenette" for every gig and not just wear our everyday clothes. Sometimes we will have a theme where everyone wears a certain colour, print or a cowboy shirt. But a lot of the time even when we dont discuss any theme, at least 2 of us end up matching. I'm a big fan of bands with themes in their stage outfits, I mean its fun to look different and feel different to what you do in every day life.


Your Facebook page has been suggesting that some recording is happening. Can we expect an EP release this year?

Jess: We released our debut EP last February and were deciding between doing a single, another EP or an album. We've decided we have enough tracks to do an album so why not just go for it? We're booked in at Head Gap Studios in Melbourne in July and the record is being produced by Mick Baty, who runs Off The Hip records on Flinders Lane, which is a rad garage record label and store you should all check out next time you're in Melbourne.


This Wednesday (June 4th) we'll see you at Punk Ass Kids - a very fitting night for the band! Where else can we expect to see The Villenettes this year?

Jess: We have a residency in July at our other favourite pub The Grace Emily, every Friday. Looking forward to getting comfy at the Grace and we are currently booking in some really cool and interesting supports, all bands we haven't played with before, which will be announced shortly. Also looks like we will be back playing in Melbourne in August, and we plan on visiting more of the country once our album is released.
Powered by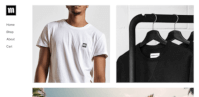 Create your own unique website with customizable templates.