Interview by Brett Pike
Amongst the mayhem of the mosh pits and the dark, sweat dankness that is the dive bars that litter Adelaide's CBD, a new brand of musician is emerging out of our town. Young, brutally honest and eager for success,
The Unknown Locals
epitomize the next generation of musician and we were lucky enough to sit down for a yarn with them after their set at
Ratfest
over the weekend.
It was by pure happenstance that we can across the western suburbs boys opening up for Verge Collection not too long ago, and fate would have it that this would not be the last time we would be crossing paths. It was only a week later we caught up with
The Unknown Locals
post-set guys themselves are just as crude and vibrant as they are on stage as they are off it, naturally comfortable around each other and gelling together like a group of young guys do.
"
I'm not lying right now, Jack's a little fucked up. He just called his mum a MILF before
", jokes frontman
Jono Dewar-Cutting
to kick off the chat.
Picking up where many of Adelaide's current cream of the crop have taken off from, the boys grew up feasting themselves on local shows with a particular mutual interest in the burgeoning hardcore scene becoming a unifier between
Jono
and drummer
Corey Battersby
. These days between the band we can find influences ranging from US surf rock bands like
WAVVES
to local heavyweights
Bad Dreems
and
West Thebarton
coming through the bands music.
Jono
: "
I met this kid (Corey) at hardcore shows. We grew up listening to hardcore with bands like Parkway Drive, August Burns Red, Devil Wears Prada. We've played music together since as long as I can remember and I grew up playing a guitar. I went to a lot of local shows back in the day so I was into Harlow, Words Of A Liar, Armed With Integrity. Those bands were nuts
."
Jesse Jenke
: "
I grew up on a lot of punk, surf rock, grunge. WAVVES are probably my favourite band at the moment and FIDLAR. We're all right into FIDLAR right now."
Corey
:
"I'm only recently into the whole Triple J scene, I used to be all about hardcore and only listened to hardcore and all of that so it's all new to me."
Jono
:
"So now we're giving him a musical education. Bad Dreems, Horror My Friend, West Thebarton those guys are fucking awesome. Chiara La Woo, they're a sort of funk, soul, reggae band and they're my favourite at the moment. STORK as well STORK are heavy.""
Corey
:
"Well they reckon they're giving me a musical education but I only know the drums so haha."
For a band that is relatively new in existance, having only played their first show in Jono's backyard just a tick over 4 months ago. Since then the band has gone on to fill out shows (and sell out beers at the bars) on the west end of town and banked themselves a supporting slot on Verge Collection's sold out 'For The Story' tour. The energy that the band delivers is palpable, only matched by their passionate and rowdy supporters who just go fucking crazy for this band, even crazier for the fact that the band hasn't even released their debut single yet.

Jono: "This is what we love, we just love playing in general. I was a roofer, Jack's a landscaper, Corey's an IGA manager and Jesse's a plumber but this is all we want to do with our lives. If this goes anywhere then we will be the happiest guys you've ever seen, this is our livelihood."

"We're just having fun man, we jam three times a week because we love it. We usually jam out our set and then talk shit for half an hour until Corey says 'Oh I gotta got to work or I gotta go study or I've got indoor soccer. Fuck indoor soccer haha."

Corey: "I'm the responsible one in the band, they're all hooligans and I'm the one that keeps everyone together."

And while the band has set themselves some lofty goals and undeniably want to push the project to it's absolute limits, not everything has been smooth sailing along the way. An issue that has had increased focus in recent years is the black dog, we're talking about depression. It can affect anyone at any stage in their lives and odds on that someone close to you has or is going through that hell of a time that it is. Personally affecting lead singer Jono, he's taken the experience and turned it into arguably their most powerful and identifiable tracks in 'Déjà Vu'.

Jono: "I can still remember the day. I was on site at a holiday park and I was just feeling utter shit. I knew where I was and I knew where my headset was at, I went through depression back when I was about 17 and I knew that is was coming back. I just went to the toilets (on site) and wrote down how I was feeling and that became the song (Déjà Vu)."

"It was hard (playing the track live). It's easier now that I've put out the reasoning behind the track and people know what it's about and I'm not one to keep it inside. I told the boys from minute one how I was feeling and they were all my main support for me to get out of that fucked up head space. It's hell you know."

Corey: "With me, I'm a bit of a smart ass but I can tell when he's being serious and we all know that we're all there for each other in the end. We will hack into each other until the sun comes up but when it comes to some serious shit, Jono and we all know we're there for each other. He'll call me all the time and have a well on chat. I love it.

Jack Woolford: "Someone that you can feel comfortable with."

Jesse: "It's like that when we come together to jam in the back shed. Everyone has their own problems going on and you can just feel that it's a safe place to talk about that kind of thing where nobody here is going to judge you."

Jono: "Unless it's what Corey has been up to on the weekend! Haha."
The next step for the band after smashing out this final run of shows before having a small break while drummer
Corey Battersby
finishes off his studies this year, is to get some music out that we can all sink our teeth into and spread it around. Recently, as in the last couple of weeks, the buys have spent a little bit of time in the studio fleshing out what will be their debut double release.
Jono
:
"We've got two tunes (coming out soon). So we've got Nina and we've got Home & Away coming out."
Corey
:
"Ohh Nina! We won't say her real name but it's about girls who are just way out of your league and it's jsut outrageous."
Jono
: "
We're planning on doing a launch at Rocket Bar for it and then we've got a couple of house party shows coming up and a spot on a day festival called Groovin' The Smooge. One of the guys from Rat Ta'Mango put it together and it'll be out at their house. It's just going to be bands playing all fucking day and getting loose. it's going to be in September some time. We had an offer to play with Los Scallywaggs and then we also had an offer to play at a house party out in Greenwith and we asked Corey if we could do it and he said 'No, no I'm not fucking doing anything' haha."
Corey
:
"Mate that is not how it went at all haha. I said I've been going to uni for 4 years straight now and I'm alsmost done and I'm not going to throw it away for a house party. I am the band haha."
​With the band gearing up to release their debut double single in just over a months time, I highly suggest you head on over to their
Facebook
and
Youtube
profiles, have a little suss of their house party and live shows, familiarise yourself with the band and get ready. They're coming and they're coming in hot.
Powered by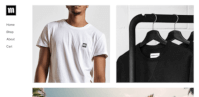 Create your own unique website with customizable templates.