Interview by Brett Pike
The Pits
. A fresh new blues garage rock group who have sprung up over the past couple months and are gathering pace, building on strong live performances and booking gigs alongside other talented locals has made them a band with scary potential. With a six track available now on their
soundcloud
, you wont have to travel out to catch their sound but it's definitely something we strongly recommend.
Of their shows to date, it appears that nearly every time
The Pits
announce a show, punk favourites
Young Offenders
manage to wind up sitting alongside them on the bill. Continuing this trend is both bands upcoming shows at Rocket Bar's
Punk Ass Kids
on May 21st with
Filthy White Inbreds
.
Oh, those guys (Young Offenders). They're always trying to get us to play shows with them. They must think it makes them look more appealing, or as if they have buddies... Haha, no they are actually good mates of ours! We spend a lot of time drinking beers together and it's always a good time. We both get stoked on each others music so we may as well play shows together while we're partying. Lovely dudes.
From first hearing any song of
The Pits
, you can get that strong blues tones coming through. That raw garage sound that many of us grew up with listening to bands like Jet, Libertines, or The Killers.
Yeah absolutely, we're all just trying to play music that we enjoy listening to. We are definitely going for a blues/garage sound, we've all grown up on it. The songs we're working on at the moment are exploring further into these genres, and we think they will sculpt our sound a lot more.
A few weeks back I caught the guys for the first time supporting Brisbane's
Velociraptor
along with
West Thebarton Brothel Party
, and it may have been halfway through their set when I heard a sequence on one of their tracks,
Ramblin'
, that was just so David Bowie, so Jean Genie.
We haven't noticed that, but if we're channeling David Bowie without consciously knowing it, then that can only be a good thing. We'll take that as a compliment!
Have a listen, compare the pair below.
Ramblin' by The Pits
Jean Genie by David Bowie
It's very easy to believe you've written a masterpiece. The song can come together beautifully, the lyrics like a friend you haven't seen in years but never forget. But how does that compare to a live performance? Will your song be as well received by a crowd as you'd hope or does it need a bit of tweaking? How do you write for both?
Syphoning through all the bullshit. Starting out with a cool riff or chord progression and jamming it out together, adding on, recording rough versions. Then re-writing until it sounds right to us and we're happy with it. Lyrics seem to come last and take longer than the musical aspect of things.
We're getting a lot tighter as the show rolls on. Our ideas in our jam room are slowly taking shape on stage. We've started playing different intro's into a few songs while playing live which really ties the set together better. Considering a couple of us didn't know each other five months ago, we are all becoming great mates. We're all comfortable expressing our thoughts on ideas. Everyone in the band is taking on their own managerial roles and doing their part to oil the machine. We're slowly but surely becoming the band we want to be.
What would you like to see happen for The Pits, for the rest of this year?
Playing as many shows as we can. We've got some stuff planned for later this year so just basically getting the funds up to make them happen. We'll be doing a film clip pretty soon. Hopefully put out a new EP in a few months. Looking to do a tour with a couple of unreal Adelaide bands interstate towards the end of the year. Just trying to promote ourselves as much as possible. We have the passion and work ethic, so we're going to see how far we can push it.
Best gig you've ever been to?
Tough one, the best gigs are usually the haziest.
Powered by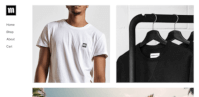 Create your own unique website with customizable templates.