Interview by Brett Pike

Filling up all the corners of Adelaide, bands are coming out left right and centre just killing it in the local scene. I caught just a glimpse of a set by The New Yorks a couple of months ago including a Strokes cover and was blown away by what they were doing. Moving into the new year, the band is preparing for their first EP release under the new name and will be embarking on a tour to follow. I caught up with the lads post-Boxing Day to see what's coming next.

This time last year you changed over from the original band
Kindergarten Kings
and into
The New Yorks
. I remember being a fan of Kindergarten Kings and then all of a sudden they were gone and it seemed as though The New Yorks came out of nowhere, so I went on the bandcamp and saw the Too Young and Girls EP and thought "
Hold up, I think I already have these tracks by another band
". Why the change?
Vinnie: Yeah I guess we were all getting older and we started the band when we were fifteen-sixteen so the name Kindergarten Kings was funny and a little bit ironic as well. After we did a couple more shows and wanted to be taken a little more serious, we'd done a Battle of the Bands thing and had a few people come up to us and say "When you guys get older you might look a little bit like a group of paedophiles so I dunno maybe change it (the name)".
​So we decided to reinvent ourselves, especially with the new EP and the stuff we're doing right now is so different (to Kindergarten Kings).

Marcus: Way way different.

Vinnie: It's heavier, well in the scheme of things it's not coming out as metal or anything, but we've become better musicians now and we're not twelve years old anymore so that's why the name change and for people to take us a little more seriously too I guess.
Nice, cool. And the new EP, recorded at
Mixmasters Studios
, tell us about all the crux of the whole thing. Who/what/when etc.
Vinnie: So for the new EP we worked with Michael Carver, who is a lecturer at the SAE Institute and Harry Townsend (Indiago) who is a student as well. When we were there we did all the main stuff so the bass, the drums, guitars and right now just doing all the tweaking at the SAE Institute. All the overdubs and things like that.

Marcus: Mainly trying to get the drums, they sound awesome.

Sam: Yeah the drums sound awesome. Mixmasters is such a crazy place too.

Vinnie: So right now we're looking at a single release in February with a film clip on that one too. Hopefully have that all out mid-February and then head off for a tour as well. And then following that the EP to be released in March.
BAKEHOUSE
: So you're looking at an interstate tour following the single release?
Vinnie: Yeah so we've booked our single launch to be at Cats at Rocket Bar on the 26th of Feb with Ecca Vandal so that will be the launch in Adelaide and then from there planning on going interstate Melbourne, Sydney, a couple of country towns through there which are in the mix right now.
Influence wise, big feel of bands like The Strokes, The Cure, is that what you were hoping for originally or is that just how it all fell together with the band?

Marcus: Yeah well we all really listen to the same stuff so it was pretty easy.

Vinnie: Except for him (points to Sam).

Sam: Well I only joined a couple of weeks ago so I just get in there and play what I'm told to play haha.

Vinnie: We're all influenced by a lot of different stuff, and really what we are trying to do is not sound too much like anyone and form our own identity as a band. And we don't set out to do it which is a good thing (sound like anyone band). I mean I'm influenced by artists like The Strokes but again originally I'm a blues player and a blues guitarist so everything just gels together somehow.

So Sam then how has it been for you coming in as the new drummer?

Sam: Well to be honest I wasn't really doing much, I was just being really lazy with a lot of it. But the stuff I learnt to this is really really different. My favourite drummer would be Steve Jordan (John Mayer, blues influenced) and so that type of drumming is a lot different to what I'm doing with these guys.
​Much of that jazz fusion, funk work that I was doing, shows when you look at the old drummer to what I'm doing now it's just really different. I had to change a little bit for that, I've taken in a little bit from my influence and added that and it's been really good.

Vinnie: Yeah exactly, one of our songs Eastwood which we already had before Sam came in, I remember finishing the song and then Sam just played a real laid back blues shuffle beat.

Sam: I was just pissing around at practice one day and it ended up sticking and we've been playing it like that ever since.
Supported
San Cisco
a couple weeks ago at Fat Controller, and you've done other supports like
Chet Faker
,
Magic Bones
and local big name
Jesse Davidson
as well, who was the most impressive artist to play with?
Sam: Wait we supported Jesse Davidson?

Marcus: Yeah that would have been ages ago maybe last year? Before you were the drummer.

Sam: Oh cool, I went to school with Jesse, we were in the stage band together and we both played drums and had a lot of fun playing together.

Vinnie: Yeah that was last year at Imagination Nation I think? An outdoor thing that was pretty cool. Most impressive though that's so tough! I think San Cisco though, they were great people to play with. It was great, opening Fat Controller on the first official gig night was amazing. To be one of the first people to play the venue was really cool.
We had a really good gig and ended up just hanging out with them after the show, really relaxed band. Loved what they do. It was eye opening too like fuck that's what I want to do.
And then locally you've played with some great names too like
Young Offenders
and
DRUID FLUIDS
, another wicked band, and a couple months ago
Indiago
as well. Who would be someone you guys just gel with really well?

Vinnie: Of course Indiago.

Sam: Indiago are sweet.

Vinnie: They're a really great band and Harry's a really great dude and has helped us out a lot as well. Getting us to play with them at their single launch, they pulled a massive crowd in Hahndorf which was fantastic.
They're probably the band we've been closest too since we evolved from what we were. Back in the day (Kindergarten Kings) we were doing stuff with the younger bands too but as we mature a bit more, trying to do the whole thing, it's been great playing with guys like Indiago.
Last one, favourite pub to play at in Adelaide. So we're talking pub pub venues here guys, no nightclubs.

Sam: Ed Castle, definitely, Ed Castle is my favourite.

Marcus: What about the Exeter? I love the Exeter.

Vinnie: The Exeter for me.

Sam: The stage there is so tiny but last night was so fucking good there as well.

Marcus: Yeah I had to chuck my amp on top of the bass rig.
​
Vinnie: It's such a humble little place, great venue I love it.
That's it guys.
The New Yorks
will have a brand spanking new EP for everyone in a couple of months time and in a few more weeks we'll be seeing a brand new single too. Keep up with everything
The New Yorks
over on their FB page and we are keen as fuck for some new shit.
Powered by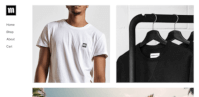 Create your own unique website with customizable templates.