Interview by Brett Pike


Spawning originally as a two piece between vocalist Bec Moore and lead guitarist Luke Higgins, life and uni has helped The Chase round out to their final five set. Spending this year working in the studio, at band practice, gelling together, all in preparation for last months debut EP Before We Met. For the pop/punk/rock quintet this also meant shows, supports, something to aspire to. Catching them between sets at Tomorrow Rising's Oasis launch earlier this month, we talked goal setting, influence, and hitting the road in 2015.
Gumtree. Great for buying and selling useful shit, playing practical jokes on your mates ("Selling 2x Rolling Stone tix $150") and apparently a great place to meet prospective band members. Similar to Metallica's Lars Ulrich, lead guitarist Luke Higgins explains the formation of The Chase via the classifieds. Great thing Rocco isn't a serial killer, band life would've been very different.

"Me and Bec have been going out for a while and wanted to start something up, maybe an acoustic thing, and we knew Toby was keen so we got him in (schoolmates). It was just going to be acoustic but we decided to go for the full band, met Tom at uni and he was keen. We met Rocco through Gumtree, just putting ads out there and I've known him before through other bands." (LUKE)


Tracking all the way back to the start of this year, Bec and Luke began laying the groundwork, the foundations for the making of what was to be their debut Before We Met, and then bringing together bits and pieces of their original two-bit acoustic show giving the 'newer' band members something to work into.

"We began writing in January, and recording in August so not even a year. A bit over eight months." (BEC)

"We did have a couple songs before when it was just me and Bec, so Hopes and Fears that was our first single, we actually wrote that a year ago." (LUKE)

"I think we had only two of the songs written before Rocco and I joined, writing the last three together as the full band." (TOM)


For most of the band, minus Rocco and Luke, The Chase is their first step out of the garage and into the world of live music. Playing their first show at The Cavern, it was safe to say they were shitting themselves. A heavy support base, and a strong turnout at a 7 o'clock slot is one of the best ways to sooth those nerves.

"So nervous. I liked it. It made me feel more excited just knowing people are there to support us." (BEC)

"Very very nervous. Didn't know what to expect. People coming and getting around our stuff is pretty cool, pretty grateful for anyone that wants to come see us." (TOM)
Two shows down. First one at the Cavern Club, second one at The Old Exchange. Where to next? It's very easy to get complacent and stick to refining the works on the local circuit but AS I AM WRITING THIS,
The Chase
have announced that they will be supporting
Forever Ends Here on a National tour next January
. Interstate shows clearly at the forefront of the bands mind when I caught them.
"Definitely want to play interstate shows. That's my goal." (BEC)
"Yeah that's a common goal. Play as many shows as possible, in as many places as possible. We know a few bands interstate so to play with them would be sick. They main thing would be getting on the road and playing with some of those guys. Just taking whatever comes to us." (LUKE)
Coming a little closer to home, sticking with our Radelaide roots, it's also about supporting local shows, and supporting the bands you've played with as often as possible. Quick shot, who's rad as fuck?
"The Drive Home! Just Like Clockwork as well!" (TOM)
"Daybreak, I'm pretty good friends with a lot of those guys. The Away Game are sick too! Interstate, Forever Ends Here and Move On, Be Strong (coincidentally The Chase are touring with both, nice plug). Undercast and Rooftops we can't forget them." (LUKE)
Insert obligatory random final question to throw a little off centre towards the band. What song do you wish you'd written?
"Cool Kids by Echo Smith." (BEC)

"Adam's Song by Blink 182, because it was something different for them at the time it was written." (TOBY)

"1985 by Bowling For Soup." (ROCCO)

"I'm inclined to say some amazingly written, classic song like Bohemian Rhapsody, cause who wouldn't dream of writing something like that. But seriously, I would say Room To Breathe by You Me At Six because it's a very influential song to me." (LUKE)
"I will say Dammit by Blink, because of how simple yet catchy it is, and because I wish I could look out and see/hear the crowd yell "he f*cked her"." (TOM)
Keep an eye out for this band, personally I'm going to be raving on about them. Even after catching their second show, with some technical faults, I'm convinced and you might even see them play at the next Bakehouse Presents gig soon! In the meantime check out their
Facebook
for future updates and available for free via
bandcamp
is their debut release,
Before We Met
.
Powered by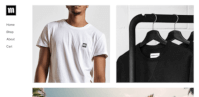 Create your own unique website with customizable templates.