Interview by Brett Pike

It's the end of an era, the end of an age. Over 10 years of globetrotting, spreading the message far and wide and increasing beard awareness and facial warmth as they go. Currently on their final ever tour of Australia, we caught up with bassist Nathaniel Beard to have a chat about, well, BEARDS.
What is the best thing you have ever found inside of your beard?

I guess, that's a good question you're asking, but the best thing I have ever found inside of my beard is the truth.

I found some corn chips once.

Corn chips are great, but it's no truth. I found the truth of existence inside of my beard and have lived the bearded life ever since.


Travelling the world with your bearded friends does have its ups and downs. There's the early flights, long stopovers, sleepless nights and copious amounts of pizza. But there is also the good times, the memories and being able to glimpse the best beards in the world.

I don't like to pitch one beard against another, I feel like all beards are equal personally. But if I had to give an answer I would probably say Munich, Hamburg, Glascow or even Toronto. Germany is strong, Scotland is strong, Canada is strong. They're probably, dare I say it, they are probably the three greatest bearded nations on earth followed closely by all of the Scandinavian countries.


With the band coming to a close this year, the time will come for the guys to return to society and integrate back in the general bearded and non-bearded population. There are a couple occupations in particular the lads will be looking at closely for their lack of facial hair.

There are two jobs firstly. The first one is firemen, but I don't want to hang shit on firemen because they are saving our lives from fires! And the reason they can't have a beard is because a beard in fact stops the mask from fitting firmly around their face. So there's a chance to inhale dangerous smoke and fumes, I feel bad for them. But I'll tell you who I don't feel bad for and that's politicians!

When was the last time we had a bearded Prime Minister?

Not within my life time I can't think of any. I feel like Australian politicians are the epitome of a bunch of cowardly knobs basically. Any one of them could grow a beard and make a stand for beards. But everyone is too focus group controlled in Australian politics, and focus groups won't let you have a beard so I don't believe a single politician is worthy because not a single one of them has a beard.
I can't even think of any person in parliament who has had a beard, well maybe for the old speaker of the house!

Well nobody in cabinet as least! Henry Jenkins yeah! Well he only resigned because he was the victim of a smear campaign against bearded people, and I'll say this that every member of that campaign was beardless! I'm willing to right ahead and assume that he was stitched up.


After playing in a band, singing songs and telling tales about beards for over 10 years now, you'd think the guys would be a little bit sick and tired of beards. One might even go as far to say that the will shave them off once the band has had it's final curtain call.

I feel like that's a really stupid question to be asking at this point. If for no other reason than for the fact that we have been severely brainwashed by our own propaganda, none of us will be shaving at any point any time soon. I won't even have children because children don't have beards and I don't care for them.


And for those of you out there, reading this interview and thinking man beards are cool and all but I just can't seem to ever grow one, fear not! For before we left Nathaniel Beard, he gave us a parting moment of wisdom for all you beard-handicapped individuals out there.

My advice is for you all to never give up, and to save yourself for your first beard. When the time is right, your beard will come.
The Beards
are currently on their final ever tour and if you have missed out tickets to their final ever Adelaide shows on
May 21st
and
October 28th
, I'm afraid the news isn't good as they have sold out all allocated tickets. For us,
Houghtonfest
was one last glorious time to rub beards with one of Adelaide's finest ever bands.
Powered by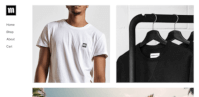 Create your own unique website with customizable templates.