Interview by Jacinta Hriskin



The Aves
are Adelaide's mod rock lovers. With inspiration from 60s bands at the time like
The Kinks
and
The Who
, the two girl-two guy four piece prove they're passionate about what they do. The Aves started a
Friday
night residency at the
Grace Emily
last week and you'd be a clown if you missed out. They'll be rocking out their indie tunes to a decorated stage designed by their very own drummer every
Friday
of December!
While lost in your storytelling indie rock songs I wondered, do you have a secret formula when writing songs, or is each song created differently?
There's no secret formula, I'm afraid! We write our songs in different ways. We usually develop our songs around chords and structures that one of us has brought in. Almost all of our songs - whether they originate from one person or not - have a strong collaborative aspect. Of course, there are songs that come in that have clearly defined structures or whatever, but I like the collaborative ones the most. We're four very different people, so I tend to think that four people pulling a song in slightly different directions makes life far more interesting.
Being a local Adelaide band, could you tell us about your favourite venue to play at?
Adelaide has some really cool venues. We love the Ex because it's one of the first places we played and they're good to us there - there's always a bunch of people to hang out with and after the gig we have a real good time. But The Grace has so much atmosphere and is really lovely. I love how it's crowded and warm in winter, and the stage is in the doorway and every time I walk in I see some little trinket on a mantelpiece that I never noticed before.
And while we're at it, how about your favourite Adelaide band right now? Okay, that's hard! I'll let your name a few!
Adelaide has some great bands and you can really feel a bit of excitement about the city and music right now. I think Horror My Friend are doing great things, I've always loved the Bearded Gypsy Band, St Morris Sinners get better with every show, Ghyti are a very talented bunch of chaps. We've come up the Adelaide circuit with a lot of great talent, we're very jealous and happy to be around them!
Google defines aves as a class of vertebrates which comprise the birds, does this definition have anything to do with the decision making of your band name?

We settled with The Aves because we hated it the least. I think there may have been a dictionary involved. We were attracted to it because in some ways it comes from that 60s tradition of The Byrds and The Beatles - but in many ways, it doesn't mean anything. We were very attracted to that. The Aves could be any type of band and that was important to us. We didn't want to pigeonhole ourselves too easily.
Earlier this year you played a few shows in Melbourne. Who's the worst traveller in the band and why?

Tricky question. How do I answer it without getting dagger looks next band practice? We all have our good moments and bad moments. Thomas gets carsick and Tasman always wants to stop at every op shop or go on ridiculous detours. I get grumpy if I'm not fed at adequate intervals. Clair flips out when we drive into the Melbourne - she doesn't trust any of us as navigators and we always accidentally end up on a toll road screaming at each other. We have to buy her an energy drink afterward to calm her down.


Are there any big plans for the new year?

Yeah, we've got some big plans on the way. We'll be recording our album early in the year. That's particularly exciting because almost the entire album has been written from scratch. It's a bunch of songs that our fans haven't heard and we wrote the album with the view of the songs fitting together conceptually. We want something more than a bunch of songs on a CD. Next year we'll be promoting and touring that and hopefully getting along to the US again during their summer too.


Your Friday night residency at the Grace Emily starts this December. Can we expect any surprises from you?

We're going to test a bunch of our songs out! So every week we'll have a different setlist and we'll be working the songs as we go. Some of these songs a very, very new - so new that we'll be hearing them properly for the first time too! We've got a bunch of great support acts as well, and Clair has promised that she'll stage design each show. We're at her mercy, so who knows what will happen?
Powered by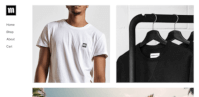 Create your own unique website with customizable templates.