Interview by Brett Pike

With the release of their debut single + film clip last week for This Side Up, the lads of Tall Enough To See are gearing up for the launch this weekend at the Ed Castle's Thrillhouse gig night. I shot some Q's over to vocalist Joe Keain following the band and his thoughts on the progression of Adelaide's current music climate.
Take us through a day in the band. How does that unfold?

A regular day would consist of us all being at either work or uni for the most part and we'll usually jam around 5ish at my place. I'll usually be napping before the boys get there, Kretschy rolls in first and makes himself a coffee then has a smoke…not necessarily in that order.


Callum will arrive next eating a VDR and Kretschy will have another smoke. Doug will eventually stroll in 20-30 minutes late dressed ridiculously well with sunnies on, no matter what the weather. We'll jam for around an hour, the whole time trying to keep Lucy the dog out of the shed. We don't really do anything too impressive, we're pretty normal dudes.


If Tall Enough To See is a blend of punk rock and your favourite beers, what goes into that mixture?

1/2 a cup of distorted guitars, ¾ cup of loud drums that my neighbours hate, ¼ cup of punchy vocals (Doug hates the word punchy so I try and use it as much as possible), as many cups of West End as your heart desires (feel free to substitute that with the cheapest pint available), 1 tablespoon of sweat, 1 teaspoon of Kretschys tears. Stir to combine and bake for 45 minutes or until we run out of songs to play.


You lads have been going around for a couple of years now, what are your thoughts on the current Adelaide live scene?


I think it's pretty good. You can head out pretty much every night of the week and catch a gig, depending on your own tastes. On weekends there's usually clashes of some of my favourite local bands which must mean things are ticking along nicely.


There are also some local acts starting to make big waves outside of Adelaide with the likes of Bad Dreems and Tkay Maidza, which can only mean good things. It shows that Adelaide can hold its own against other cities. The scene is alive and well.


Where do you see it heading in the next couple of years?

I can only see it getting better. There's a bit of trash talked about Adelaide's live music scene but from personal experience the people here still love their live music and I can't see that changing. There are so many good local bands floating around at the moment which I think will encourage others to start up, with plenty of venues and promoters looking to jump on some home grown talent.


These people also work really hard to give bands places to play and make sure people are coming to watch so I can't wait to see how good it will be in a couple of years. Adelaide gets quite a few national and international acts as well, and although some choose to skip this city, the ones that come here definitely notice that the fans appreciate it. I think that will encourage other bands to include Adelaide in their tours and the live scene to grow here as well.
Outside of musical influences, what has had the biggest impact on you guys as musicians?
I'd say our mates have the biggest impact on us outside of musical influences. They're the ones coming to our gigs and making it a good time, listening to and sharing our songs and buying our merch. Without them I don't think we'd be nearly as motivated to keep doing this. Their support pushes us to want to be better musicians and give them something that they really enjoy.
Ross Osman of 5/4 Entertainment has also been a massive help to us with organising gigs and giving us advice and just being a really easy and nice dude to work with. Reid Jones, who recorded and mixed our tracks, had a big impact on the way we all play individually and as a band. We're definitely better musicians and tighter since working with him.
When you're not playing music, what would you be up to?
If we're not together I'd definitely be napping. Kretschy and Callum would probably be playing Dota or some sort of video game together and I don't actually know what Doug does in his spare time….he sorta just floats around doing random shit but dressed really well for no apparent reason. He's probably Batman. If we're together we'd probably be watching the footy and talking smack and drinking beers as well. We dem boys.
Best thing about South Australia?
The other boys would almost definitely say Iced Coffee, but my weak lactose intolerant body would say that little flicky thing you do with your index finger when you pass another driver on the road. You don't get that in other states, people here are nicer.
Tall Enough To See
are launching their single
This Side Up
at the Ed Castle this weekend alongside
Lost Woods
,
The Smile Hooks
and
King Indecisive
, all 90s themed. All the gig details and more head to the
Facebook event
.
Powered by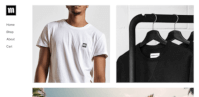 Create your own unique website with customizable templates.