Interview by Brett Pike

What should to mind when you think Surviving Sharks? Roy Scheider from Jaws shooting an oxygen tank? Swimming with baby sharks at SeaWorld? Nope. Adelaide grunge. Surviving Sharks are a three piece grunge act who have been in the works for a few years and are coming around to with a new EP. Current single, Russian Tide, was a release from their previous EP And Living To Tell The Tale back in 2012. This Saturday night they are teaming up with other locals Squeaker and Virtue (Melb) for grunge rock at Worlds End.
New single, Russian Tide, what does this release mean for the band?

The song 'Russian Tide' is actually a song off our first EP that still sounds pretty fresh, our video director started working on the animated clip about a year ago and then got pretty busy travelling oversea's in which he produced another video for us in Greece for a song called 'Fire' off our new EP 'Traversing Time'. So, we've kind of gone back in time for this, but as most bands know, if you put any images to music, it makes it new again!.


Are any of you planning stay up and to catch it's debut screening on Rage?

It hasn't been played on RAGE as of yet, but we're anticipating this video to hit the ABC this weekend or the next week, hopefully! It'll proberly get played at 5am or something along those lines but that's OK, it's on a playlist and we can now commence the thread of film clips! For those that don't know, it only costs $88 to get the DVD made to BETA cam and then $8 to send to Sydney. Would be good if RAGE had a phone number but they don't as I can imagine every band would be calling to get their video played at a prime time spot.


You're playing a show this weekend with Squeaker and Melbourne's Virtue at Worldsend on Saturday night. Can you give us a bit of a run down of how the night will pan out and what's in store?

We have a long time association with Squeaker, haven't played that many shows with 'em but I've done tech work for the band over the years and Georgina (singer in Squeaker) her and I sing together in my solo project, we've done some international supports and festivals, so suffice to say Steve and Georgina Staben are great friends of mine! I'm absolutely excited for the band as I also have a great rapport with Rodge (guitar) and Oswaldo (bass), wee've shared many good times together and musical experiences. The gig on Saturday is at the Worldsend Hotel and Surviving Sharks are on at 10:20pm. I don't know heaps about Virtue but some friends of mine seen them live in Melbourne with 'em and rate them as a top band! So, I'm looking forward to catching their set. Squeaker will finish the night off and they are quite strategic with how many shows they do in Adelaide as they tour a fair bit, so, we're expecting a few punters to this one! Squeaker played our second record launch a couple of years ago and the show was packed! I asked Squeaker to play last so we could just 'enjoy a few' after our set and they played to a full room at the Ed Castle, going on stage at 1am! I wasn't suprized, Squeaker are a very talented bunch who always put on a great show.


Many of us have a hard time sorting out what's for dinner most nights. How do you juggle working, social life and being in a band? Do you get much time to away or is it a labour of love?

It's not that hard for me, I'm still a single bachelor (hello ladies!). The other two guys are happily married and there are children. For starters, I'm in Surviving Sharks with my brothers. Drew my blood brother and Josh my brother from another mother. It makes what we do, let's say - easier to manage. We have decent social lives, working lives, personal lives - and then we have the band. I think what keeps it going and interesting is that Drew and I, we're song-writers. We bring new music to the table quite regularly and then Josh is our 'conductor' and 'arranger', he's got quite a talent in that area. It helps as Drew and I are quite close to the songs and then Josh will breath new life into it. Music is a labour of love - there is money in it for sure(helps to pay for recordings which we really enjoy). I've had a lot of experience dealing with the financial side and Drew is incredibly business orientated so our business never really seeps into the song-writing but we must run it that way to keep it moving forward. I always enjoy removing myself from it all quite regularly - but enjoyment and 'removal' is supporting my friends music and getting inspired by other bands! I'm not a good tourist, for example if I'm in Melbourne or Sydney etc, I'm playing shows.


How long has Surviving Sharks been kicking around for? What are some memorable moments so far for the band?

We started in 2011 as a 5-piece band, two members left and then we focused and staying as a trio which has worked out for the best. We love grunge-pop music and as a trio, we can really provide credit to the genre! All three of us are singers, so every song has a contribution to harmonies, makes for a unique experience for the audience. Memorable moments would be ALL of our record launches (three in total), supporting ASH to a sold out crowd at the Gov in August 2013 and also playing a sold out show at Jive with KINGSWOOD. There has been many more but these experiences stand out the most.


What's the worst thing you or someone you've seen has done at one of your gigs?

Nothing really comes to mind, all the shows have been quite positive! I can only think of playing a gig with the guys from the Mark of Cain and while they were playing after us these women who were obviously quite intoxicated came in and started getting a bit crazy! I didn't think anything of it much apart from realizing they were very, very drunk( not un-common at a rock show). I heard after they started a massive brawl in the beergarden, but I totally missed it as I was doing the right thing and watching/listening to the headlining act! Apparently it was quite spectacular! Ha ha.


Finally, if Surviving Sharks were to have a biopic made about them, who would you like to see cast as the band?

Drew - Toady from Neighbours - But he'd have to grow an epic beard and get some shoulder range!
Josh - I think Sam Worthington would make an ideal cast member to play Josh - fearsome!
Sean - Mick Malloy. But he'd also have to grow and epic beard and get some tattoo's

The Movie would be called - SURVIVING SHARKS : GRUNGE BEARDS and ROCK N ROLL
Powered by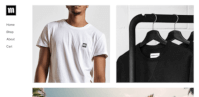 Create your own unique website with customizable templates.