Interview by Brett Pike
Our second installment of
Getting Baked
comes from the brutal three piece,
Sincerely, Grizzly.
Drummer, Rowan Mount, was kind enough to answer some Qs from us about recording their debut album,
Halves
, and their recent knockout performance with Canadian duo,
Japandroids
. Yo.
Did Sincerely, Grizzly really originate in North Korea?

Yes, yes we did.

Is the type of music that you guys generate, hard hitting fast paced rock, similar to the music you listen to?

Well Josh listens to whatever we're about to rip-off next, I only listen to Dave Brubeck and Edgar Allan Poe recited by Christopher Walken, and Griff only listens to freestyle rap battles on Youtube. So that's a 1/3 yes/no.

With the upcoming release of your debut LP, Halves, what can we expect from the album?

This will be our least radio-friendly release yet. It will also be our best release yet.

When will we see Sincerely Grizzly take stage again and what are your plans post album release?

Our next home show is on the 5th of October so we surely hope you'll see us there. As far as plans post-album, we'll be playing, and most-likely bleeding, everywhere on tour.

Describe the experience of playing with Japandroids.

Well the Japandroids were fucking cool guys. As in bros. They were incredibly laid back and happy to hang out before and after the show. Dave even came up and asked if I needed anything whilst I was setting up! Playing the show with them was phenomenal. The crowd was one of the best we've played to. Japandroids' fans make the perfect crowd because they're clearly there to have a great time, not just to observe from the bar. Then having the pleasure of seeing the Japandroids in a packed-out club show was just insane. Those guys know how to put on a fucking show.

Playing plenty shows in Adelaide has definitely developed a strong local fan base. When you play interstate, virtually starting over again, what are some key points you make sure to nail to make an impact away from home?

The biggest thing playing interstate is going out of your way to contact, meet, hang out with and bro-down with interstate bands. Both the bands you're playing with and the bands you want to play with. Offer them your back-line, living room & girlfriend (to do merch) if they ever come to Adelaide. And mean it.

Wildest show you've ever played?

I can think of a few 'wild' shows for different reasons. I think the Japandroids show had the best crowd-surfing action. Playing Laneway was just an epic day & night (that's where we met the Japandroids guys, after all). I can also think of a few of the shows with …And You Will Know Us by the Trail of Dead which were unforgettably wild for various reasons (perhaps best left unexplained)…
Powered by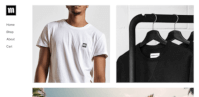 Create your own unique website with customizable templates.