Interview by Brett Pike

Having spent ten wonderful years writing, recording and touring as a part of Lowrider, Joe Braithwaite now known to all as the artist Ripley has begun his solo adventure into music. His debut EP Bigger Than Me was released last September to a near packed house at the Pirie St Social Club, and in the coming week he will continue his venture with a performance at this year's WOMAD Festival.
Not one to let anything get stagnant, Joe followed the breakup of Lowrider and dove straight into the new project that is Ripley. Even with the release of last years EP and a string of performances at home and interstate, including the upcoming WOMAD show, rest assured that there is plenty more on the way both from Joe himself and plenty more features, such as his guest vocals on Luke Carlino's track Making Maps.

​
"I'm keeping the ball rolling, I'm doing some more recording this week and will hopefully have some new stuff ready just after WOMAD. Yeah just keeping the ball rolling with writing new music and let's say I'm a bit excited it.

It's been really good, I've been working with a lot of people with guesting on songs in the last six months, some of which isn't out at the moment. That part has been really good because with Lowrider we were always very internal and didn't really do anything (collaborative) with anyone else. It was a bit of a rule we had but it's been nice to do that."


​Being a solo artist comes with as much freedom as it does pressure. It allows you the freedom to explore material as you feel, and do delve into certain fields a band cannot and at the same time there's nobody to (regularly) fall back on or bounce ideas back and forth with. It does though give the songs an identity, a living breathing human to embody and represent everything.


"It's not that the Lowrider stuff wasn't honest but, I'm not trying to be tricky with Ripley. It's me writing songs like I always have and how I used to when I was 15 years old. So it is very honest but probably a better word for it would be natural I guess. It's just how I've always written and to now have a platform to write in that way and to have people interested is great. I feel like I'm giving my younger writing self a pat on the back."
This year's performance at WOMAD caps off a brilliant first year for Joe as a solo artist. The opportunity to play alongside The Violet Femmes, Sarah Blasko and Alpine as well as local favourites The Wasted Wanderers, Datakae and Problems is surely one to remember for a lifetime and a unique achievement for any artist.


"I'm an avid WOMAD supporter, I've probably been to the past 7 or 8 in a row. It's very rare that I'll pass up that opportunity, and I love it. It's a musical discovery for me, I often don't know a lot about many of the acts but then you'll end up just being totally transported by a Tibetan monk or someone playing an instrument you've never seen before like the oud. It's always a musical journey which I think is what a lot of people are after these days with festivals.

You don't necessarily want to go an see a whole bunch of bands where you know what they're going to be like. It's a discovery and that's a reason why I like WOMAD plus the grounds themselves are always beautiful to walk around and sit under a tree listening to music. I've been to a lot of festivals and I'm a big supporter (of WOMAD), as you can tell. To be able to play at it with this project is just total win. I'm so stoked with it as you can probably tell."

"I'm actually in conversation now about getting some interesting instruments on stage with me for this WOMAD performance, I won't reveal too much in case it doesn't come off. I'm pretty keen on trying to make my set feel inclusive to everyone who wants to be involved."


A very down to earth, honest individual, the past couple years have thrown their challenges towards Joe in various forms. The winding up of his former band, the sudden passing of his brother and the birth of his children. He's keeping his feet firmly on the ground and diving straight into the next stage of his life as a new student and a father.

"At the moment I'm studying nursing, after eleven years of touring and writing and whatnot with Lowrider and now I'm going to undertake the study that I never did. It's a good time of life right now, I've got two beautiful children so it's really really busy and I'm loving it."
Powered by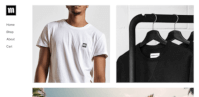 Create your own unique website with customizable templates.