Interview by Brett Pike

Two cancelled interviews, third times' the charm! Bad weather and Christmas retail work aside, last week I was able to with the doods from one of Adelaide's newest punk bands, Ramona Come Closer, at a band prac at the Fish Shop. Even better they treated me to an in session jam of You Only Love Me When You're Drunk and a cover of the Johnny Cash classic Ring Of Fire. This is what we had a yarn about. Yes cobbas.

So how did Ramona Come Closer come together? Where does it start?
Tash
: Well, I posted a facebook status after thrashing
The Distillers
self titled album for a few months and I thought I want to start a band. Posted a status asking if people were interested and basically filtered through who I liked and who I didn't like and who I didn't know.
Angus
: Are you sure you want that to go public?
Tash
: Yeah I don't care it's the truth.
Angus
: Some guys, the other guys that commented you're like "No….."
*insert super fun laughter*
Tash
: I already knew Gus because we played shows together in our old bands. I knew Hayley already because we went to high school together. I had no idea who Jayke was so he was like 'the risk'. He was literally like the mutual friend on facebook that you don't know who he is. And he inboxed last so he got drums…
Jayke
: Yay!
Everyone wants to bang the drummer though!
Tash:
And then we all just met up one day in a shed, jam room, it was really really hot. I hope that no one was a creepy rapist, Jayke mainly hah. I knew you guys (Angus + Hayley) so it was okay. I think the basic line was that I just wanted to have a band with people that actually wanted to commit to one night a week of band practice, and playing shows and just commitment because people can be flakey especially as you get older with other commitments. That's my interpretation, feel free to jump in guys.
So have any of you guys been in bands before this one?
Angus
: I was in
The Tempts
, Tash was in
The Pretty
, Jayke was in…
Jayke
: Just floated around.
Hayley
: He was in The Road… The one that we played with. Weren't you in that band for a little while?
Jayke
: Oh
Devil's Crossroad
? Yes but not really. I jammed with them when it was just
Pantera
covers and then Zac came along and it changed styles. I was like "Yeah nah thanks."
You guys have three tracks up at the moment. How do you guys go about writing your songs?
Hayley
: Tash writes them.
Tash
: I go home and either start with the lyrics or guitar, there's no order. Basically work out, it's practically an intro maybe, a first verse and a chorus and I'll bring that. Usually repeat the first verse over and over until I can be bothered writing a second verse. They guys add in their own bits, Gus does heaps of the lead work.
Angus
: Pretty much Tash writes the songs and the framework.
Jayke
: Brings out the skeleton.
Angus
: And we flesh it out, we all arrange it as a band. So kind of she writes and we arrange.
One of your first shows was with Stonefield, how did you manage to hook that one?
Hayley
: Well we submitted and they kind of picked us?
Tash
: Well, out of all our shows, majority of our shows. Wait how many shows have we played? Four or five? Our first show and our second show were both at
Fowlers
luckily (same venue as the
Stonefield
gig). Michelle who works there, she liked us and apparently
Stonefield
's agency contacted her and said "Hey do you know a band that would be good to open for
Stonefield
?" and she said "Yep I know this new band, they're really cool". But at this stage we'd only played three shows, the third one was
Punk Ass Kids
at
Rocket. Hayley
: So we played at
Fowlers
and then when we went back to Fowlers and she asked us "I think you're gonna get a call from someone, an agency about a gig"
Tash
: We had a weeks' notice.
Jayke
: Yeah might've been four or five days.
Tash
: Yeah I think was a Monday or a Tuesday we got the call. And then he emailed us or facebooked us, this dude, "Call me ASAP if you want this gig". We were like "guys what do we do ahhh."
Angus
: Basically we were shitting our pants.
Hayley
: Because she gave us the heads up we kind of already said we could do that date. And we said yep yeah.
Tash
: So we just got recommended which we were lucky to get.
Good timing then playing those shows at Fowlers
and having the right people there at the time.Tash
: Yeah and having the right people like you helps as well.
When you're not rehearsing or playing, do you guys get out to many gigs in your spare time? Anyone in particular?
Tash
: Oh I'm trying to think the last gig I went to…
Angus
: Like locally?
Infiltrator
. They're doing rad at the moment. They're this metal band that's just released an album, just getting bigger and bigger shows with international supports.
Soilwork
and they got
I Killed The Prom Queen
coming up. That's always a good show.
Hayley:
Dead Joe
.
Tash
: Yeah
Dead Joe
. They're friends of ours and it's always fun to see your friends play do you know what I mean?
Hayley
: And they really helped us out like getting us into the scene definitely.
Tash
: Putting us in shows, and they're just sick guys, good music.
Angus
: Other than that we get out to other shows, if
Frenzal Rhomb
or something are coming.
Tash
: I like
Hightime
, the local band
Hightime
are sick.
Jayke
: I really like
Encarta
, I don't know if you guys know them or not.
Encarta are really cool. I saw them in July (the end of June but we can look past that) and they're sort of jazzy but not but rock but…Jayke
: I'm just really impressed with everything they come up with. Incorporating it all together.
Do you feel like you've found your feet or do you still feel like you're coming together musically as a band?
Angus
: Almost, we're getting there. We're still developing though.
Hayley
: Always, always developing.
Angus
: Yeah exactly right. Those first three tracks are 'that's where we were at that time' and we'll be somewhere else soon when we release something else. From those first three tracks is a pretty good representation of where we started. Just jamming and having fun.
Jayke
: They're sort of the three favourites of the original songs that we wrote.
Hayley
: And that was before we'd even played a show, we'd recorded that (
Hell, LDR
and
You Only Love Me When You're Drunk
). And now we're more confident and forming and the music is more playing live than recording it.
Tash
: I think we have a sound but it's not an intentional sound. It's not like we're saying "Let's sound like this". It's a matter of each song we've written or I've brought something in, it develops through band practice and I think if you go through our setlist, each song is different in itself but it all still compliments each other. It's weird. Some people say "Oh what do you sound like?" Well I dunno. We all have different influences and different favourite bands. It's good because it comes together in a way that one song can have a reggae theme and another song could have a rock n roll thing. It's good though still developing.
Does anyone have any bad habits?
Tash
: I'm late for everything in life, ever.
Jayke
: Yeah we rock up at seven and it comes to 7:30 and ohhh here's Tash.
Tash
: I think it's a genetic defect but whatever that's just me.
Angus
: Not finding the time to practice guitar at home.
Tash
: That's not a bad habit that's just life.
Angus
: There's those times where ahh I could watch television and play guitar at the same time but it's too far away. Dr Phil's on, he's my full focus.
Jayke
: What pisses me off the most about you guys…
Tash
: Well I dobbed myself in guys come on.
Angus
: Trying to break up this band or what.
Any bands / artists you want to see before you die?
Tash:
All my favourite bands are dead. Ha no not really.
Jayke
: I'd like to see
Fish
but they never tour outside of America so you have to go over there to see them. But they're huge over there.
Tash
: Do they have to be alive or?
Nah go for it. If they're dead still chuck it out there.
Tash:
Just one band?
Ah nah could be a couple.
Tash
: I'd love to see
The Ramones
but they're majority dead. I'd love to see
The Distillers
get back together and play a show. And I hate everything else.
Angus
: Probably
Led Zeppelin
in their prime with me front row, that'd be good. That would be my number one.
Hayley
: I'd like to see
ABBA
get back together.
Tash
: No!!!
Hayley
: I'm kidding I'm kidding. I was thinking who would she (Tash) like the least. I'm alright, I'm okay.
Bee Gees
obviously.
Angus
: It's good though, comes back to the whole we've got different influences. Like Hayley is heaps funk influenced and "Can I disco?" and Tash is more punk and I'm more rock and sort of metal. And Jayke is everything. Multi instrumentalist
Howard Moon
over there.
Hayley
: Actually my real one, my real one is
Queen
. And
David Bowie
together at Live Aid.
Angus
: I'd love to see
Borat
and
David Bowie
together.
Freddie Mercury
looks like
Borat
.
If you haven't caught them yet at one of their five gigs, you can catch them tonight, Dec 20th, at Black Market supporting In Fiction. Details
here
. Similarly if you can't make it out to the gig, you can check out the three tracks they have up online through their
Facebook
. A bunch of really good people making some really good music that right now I am just digging like all hell. Out of the lot, my pick would have to be L.D.R.
Powered by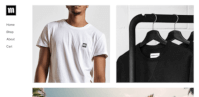 Create your own unique website with customizable templates.