Interview by Jacinta Hriskin



A new electronica team is about to grace our stages in Adelaide this weekend at the Rhino Room's Plus One event. Problems are the creation of Adelaide musician and producer Justin Walkden's personal, artistic outlet. He has been involved in other musical accomplishments, but Problems is his love child that he has wanted to come to life. Fast forward a short time later, and he is ready to release the EP for Problems this Saturday night! The EP, named For The Ages, is inspired by almost every music genre and is combined into a mysterious fantasy of digital music. I caught up with Problems to discuss their musical endeavors.
What was the initial inspiration for starting up Problems?

I started Problems as a way to release music i was creating as fast as I made it. For years playing in bands it always seemed to take forever to release anything you had recorded and by that stage you were over those songs and wanting to get onto the next. So problems became that outlet and cured my interest in production.


Problems is influenced by such music genres as world music and downtempo electronica. What do you enjoy most about this type of music?

For me I'm inspired by anything, weather its the sounds of an Indonesian Gamelan drum I heard when overseas to some crazy man made Synth. I think electronic music is a blank canvas. It can be what ever you make of it. There are no rules or restrictions. Mixing that with the sounds and analogue flavours of the world i think gives an interesting mix of sounds.


How do you create a track? Is it a step by step process or a collection of ideas pasted together?

When writing, Ill usually have a concept, an idea like i wanna write a song with a no chorus but a huge ending. Then ill focus on a few drum loops, bass lines and melody. Ill piece 3 quarters of the idea together before adding Vocals. At the vocal stage i decide weather its a keeper or its gonna get trashed. Then its usually a month of mixing, leaving it, revisiting and detailing. If i still like it after that then there is something there and she is a keeper.


What's the problem? Where did the name Problems come from?

I don't have any problems. I thought it would be a cool name for a garage act i was working on. I ended up just going with it. Naming a project is the hardest thing in the world.


Who are your favourite electronica artists at the moment?

Currently, Im really excited for the new How to dress well album. Everything i have heard of that this year has been amazing.
And not really electronic but Tycho. Those soundscapes are so dreamy.


If you could collaborate with any musician, dead or alive, who would it be?

Probably the hardest question here. Probably Ian Curtis. Could make something interesting with his voice and modern production.


The ultimate venue to play at would be?

Any venue where people are enjoying themselves. Big or small.

Favourite song right now?

Too many to choose. This week:

How To Dress Well - Repeat Pleasure

Tycho - Awake.

And an Australian

DMA's - Delete


This Saturday May 3rd you play at Plus One for your EP launch, do you have a little warm up routine that you do before each gig?

Not really seeings this is our first live show for this project! I'll have to tell you next week! ha.

Thanks!
Powered by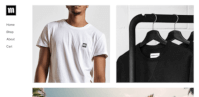 Create your own unique website with customizable templates.