Words by Steph Komar
Meet Phill Fletcher
, the freshest voice in hip hop. Taking to the stage for the first time
on Friday
at
Biggies @ Bertram
, Fletcher showcased the brand spankin' new release 'Horizons,' the polished twelve track album of spits and word tricks. We sat down before the show to talk all things inspo, shedding light on the creation of 'Horizons' and catching on to some gigging vitality in its purest form.
Fletcher
has been jeopardising his engineering studies for the last two years for the sake of music, but the dude hadn't played any shows until the
Friday
gig at
Big's
. The energy that wafts behind Fletch's every step is a repercussion of the evolution of freestyling as a hobby to its full growth into a completed album.
Fletch
says the master plan had always been to "take the time, do it right and make some music that really speaks for itself rather than force it on people. I like my music to just be a translation of what my experience through life has been, the good and the bad, the dark and the light. There's a lot in my music I'm not even proud of but by sharing that it helps me to hopefully connect with others, [showing] you not only see the dark but you can also see the light as well."
This raw approach is the very foundations of '
Horizons
,' right down to the production process. Take the vocals for example,
Phill Fletcher
has done what Adeladians do best and utilised valuable connections, namely the studios at
Adelaide Uni
. For the backing tracks,
Fletch
reached out to the broader internet community to source the lucidly smooth sound of the album.
"
I've just been scrolling the net for the hottest beats I can find basically. I've hit people up and done it all legit… it's all properly on Spotify and Apple Music [and I've] got a couple singles out from the album that are already out there. It's been pretty well received, mainly from my friendship group but yeah it's starting to spread!
"
This method of taking it slow proves that patience is virtuous.
At the end of the day, '
Horizons
' captures the clever puzzle of wordplay and innuendos while hosting enough bounce to fill a dance floor. It is
Phill Fletcher's
personality in mp3 format. And the launch was a wholesome success!
Biggies
as a venue hosts 75 people at capacity, and without a physical stage the underground bar created a powerful connection among its' people as they bopped in unison.
Fletcher
worked the room with the same amount of energy as you'd expect from such a genuinely passionate dude. He says "
[Biggies is] a nice intimate spot! I'd rather pack out a place like this than have the same amount of people at a bigger venue. People are here for the show, it's like you're coming to Biggies because you're excited about what's on. It's that real community hip hop vibe that I felt Adelaide had been lacking
."
Hip hop in Adelaide doesn't circulate healthily like that of rock and indie music. A slight stagnation since the rise of
The Hilltop Hoods
isn't so much of a detriment when a new voice comes along with the intent to revamp the Aussie hip hop reputation, that being the often grotesque romanticisation of the bogan lifestyle. While it's all well and good to kick back and express frustrating addictions through rhyme, it's time for the spotlight to shift in the direction of artists who are rejuvenising the scene! Gigs like this are slice of inspiration to go out there and get it done.
Phill Fletcher. It's a name to watch out for.

Contact Biggies for giggies:
cheers@biggiesbasement.com
Powered by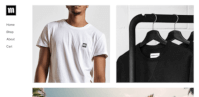 Create your own unique website with customizable templates.