Interview by Brett Pike
Last weekend we sat down with the new kids on the block,
North East Avenue
, to have a get to know you session ahead of their show with us at the
Bakehouse 2nd Birthday gig
. We talk about style, influence, getting the band together and the glowing praise of bass guitarist Alastair Farr and his classical roots.
For us normal, less musically inclined people, we have absolutely no idea how many of our mates and other bands come together. Do we stand by the roadside with a big sign that says "I play bass, need band, will play for beers?" Should we ask around in hope that somebody will know musicians with the right characteristics we need for our band? How is it done? First of the rank we asked the North East Avenue guys, Sam and Danny Mannix, Alastair Farr and Tee-Jay Flaus just how the band came to be.


​Danny: So we've known TJ for about three of four months, found him on Gumtree. (We) put an ad up an TJ was the first to reply.
TJ: Nah nah!
Sam: No I replied to TJ, basically "Hey man wanna jam?"
Danny: His profile said basically interested in playing things like The Monkeys and Stevie Nicks. We said that's not us man but we'll give it a go. But yeah, he was the first person who replied and it's been Sam and I for a long time, we've been in bands for a while now. We were in a band that won the Adelaide heat for the Global Battle of the Bands and we got to go to Sydney for the final and have a gig over there. That band sort of dispersed but we kept a lot of the same material, all of the material it Sam and I wrote pretty much as well.

Danny: Originally it was just Sam and I for maybe two years and we would just come out here (into the studio) with guitar, drums and vocals and that's all we needed and kept writing, kept writing and went into the studio and recorded. We thought we'd like to have a band to support these songs that we recorded so yeah we got TJ on board and it worked out really well and I think I messaged Ali and said "Are you interested?".
Ali: Yeah, so we went to the same high school and I was a year, two years below (Sam and Danny) and I actually always looked up to these guys so it was the coolest thing when I heard from Danny.
Sam: That was the highlight (getting the band together). It's all been downhill since then haha.
BAKEHOUSE: It peaked early then?
Ali: Yeah and then I got to know them and….

Danny: It's funny because we'd always known Ali and he was always the best bass guitarist in mine and Sam's minds. We've played with bass guitarists who've had twice as much years' worth of experience but experience isn't how long you've been playing it's how committed you are and Ali is the most committed to any instrument I've seen anyone play so we were pretty happy to have him on board.
Sam: We were stoked!
Danny: It was a good fine, we'd had other bass guitarists that we were going to ask to come on board but the quality of the person and the quality of the instrument is second to none.
Individually, the guys have been playing around here there everywhere for over a decade. Where it be at school, in other local bands and in Ali's case when he's been trying to pick up chicks.


Danny: We're been in bands for so long. Sam and I started out in bands since we were about 11 or 12 years old and have never not been in a band since. One person would leave and another would come in and it just kept moulding until we finally had this final band and went to Sydney and did the thing and it just dispersed after that. One member left and we tried to keep it going as a three piece but we could never get the band together and then from there it was just Sam and I writing for two years, as many songs as we could and went into the studio and that was our decision to get a band back together.
Sam: And the current band just compliments everything so well. You've just got so much raw talent spread across every instrument it's pretty incredible.

TJ: I've been in a few bands before, mainly school bands. I think one was called Funky Five when I was about 10 or so.
Ali: I started about second year of high school, and I started playing bass coz I really liked this girl and she sung so I thought, "Maybe if I start playing an instrument we could get a band together?" but she never liked me so... We were together in a band for a long time and then finally I called it quits and we wanted to do other things and then at the same time I got a message from Danny and thought yes! I'm back!
For most people who gig out an about in Adelaide every other weekend, at most shows there is usually a couple if not all the familiar names lined up one after the other, presenting all around great line up. But every now and then, there is a new band and you ask yourself "I've never heard of these peeps before, what do they play and who do they sound like?" Courtesy of Alastair Farr we got North East Avenue covered for you.


Danny: I'll let Ali speak for that one because he's got a good mind for it.
Ali: Okay, we'll I'll say that the Mannix twins have huge influence from The Beatles and a lot of our melodic sort of rock writing stems from that I reckon particularly a lot of the melodies. But we're definitely rockier than that so on a scale from rock to pop so I'd say we have elements of the Foo Fighters, a bit heavier stuff as well. When I came to the band I'd been listening to a lot of jazz and funk so a lot of my lines, I've got a lot of underlying walking lines and well TJ, you're sort of into a lot of..
TJ: At the moment probably a lot of Black Keys and stuff like that.
Sam: Yeah he brought in that element of a lot of guitar licks and stuff over the top of verses which is quite cool.
Ali: Yeah so we're very unashamedly pop, we've definitely got a lot of pop influences in there but we're not ashamed to, one thing I really like about our repertoire is that every song is quite different.


As previously mentioned by both Sam and Danny Mannix, the twins have been writing the current material for several years now and have a bit of a back catalog with songs. Throughout the last two years of writing and jamming, they've managed to sneak in some studio time and in fact have a fully fledged EP on the way for the band to pop up any day now.

Ali: We've got an EP on the way. We've got the CDs coming. And that's got six songs on it?
Sam: Six songs, professionally recorded that Sam and I wrote together.
Danny: So we recorded it all before the band came together because it was such a long process. Time was a major thing, finding the time because I mean we've all got work and then finding a studio that was free when we were free. We were really happy with the studio because the length of time that it took was not the issue for us because I mean it didn't cost us any more money if we took longer to do it all.

We actually got the opportunity to have Ali come in and play one track. Sam played the bass guitar, I played the drums I only did the one things but the rest, Sam played both guitars, the piano, the vocals but one song we wanted to change the bass guitar because when Ali came in it changed the way the bass guitar was done and we were more than happy for him to come and do it. What was that song called again?
Ali: Smokescreen.
Danny: Smoke bloody screen. I tell you what the bassline in that song just made it, we actually weren't even going to do that song and we sort of tossed up a couple of other songs we'd finished a week prior to recording it and when Ali came on board he changed the bassline to make it even better and we knew we had to have that so we got Ali in the studio to re-record the bass and we were more than happy to do that.
Sam: We went from a song that was sort of a filler song and then that changed and now it's sort of the marquee song. It's become number 1 on the EP.
Ali: Yeah we haven't really got into that yet (sorting out a launch show). Michael and Tanya from the Bridgeway sort of offered us to launch it there but we didn't really want to do it out in the north, we wanted to bring it into the city. We haven't thought of a place yet but I definitely think we do need to do a launch.
Danny: So the EP is going to be ready by the Bakehouse show, and I assume we'll have copies of it to sell on the night I assume but that won't be the launch. If we can get a couple people to get around it and it we got a good vibe off of that. I mean we've had good vibes off of every gig we've had so far, one thing we could work on a little bit better could be stage presence but that comes with gigging. At some stage we will do a launch, maybe later this year if we can pick up another gig.


The best thing about chatting to new people, particularly from bands and the works, is getting in tune with what types of music they're vibing on right now. Where it be other local stuff or classical or international, it's good to get a gauge on where people are at. Essentially it winds back to Ali being an exceptionally gifted musician. Which he is. And single *wink wink*


​TJ: I've been listening to a lot of Australian stuff, a lot of Triple J stuff at the moment. The talent going around right now is everywhere. Not so much metal.
Ali: I'm vary quite a lot, so right now I'm following a metal band called Cog but also I listen to a lot of classical music and I change favourite composers a lot. But at the moment it would have to be Tchaikovsky.
Sam: This is why we get him to do heaps of writing haha.
Ali: I did music for a bit at uni but I'm not doing uni at the moment so… So yeah I listen to a lot of things. So when we're trying to change things up I draw a lot from those influences so ah what song is it? One of our songs where I come up with a bass solo for it.
Sam: … Ah prelude number 2?
Ali: You know the song I'm talking about right? Because we haven't come up with an exact name for it yet. Nope? Oh well there's this thing where initially what the drums were doing I couldn't help but do a disco feel bassline. I was thinking "Man this is so stock standard" so I went back into my music, I went away and I heard a.. What is it called, where the rhythm does a ba ba ba ba ba ba ba?
Danny: Paradiddles.
Ali: Yeah paradiddles! So there's this jazz band and they were playing these paradiddles in their solos and I thought if I took that into a bass line. So yeah I draw from those influences when I feel like it needs a bit of a change or something new. So yeah retro is the thing at the moment.
And there we have it,
North East Avenue
! The four piece rock-pop outfit will be playing at our Bakehouse 2nd Birthday show at The Jade Monkey on Friday 20th September with doors opening at 8:30pm and bands kicking things off around about 9ish. Keep up to date with that show on the event page
here
and you can also keep up to date with everything
North East Avenue
on their
Facebook
and
Soundcloud
pages as well.
Powered by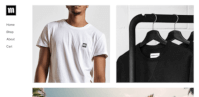 Create your own unique website with customizable templates.