Interview by Ian Hooper


Many of you may be familiar with the funky rockers known as 1757 (or Seventeen Fifty Seven for those who like words). And usually at their shows you would notice a guitarist in the corner who would say very little, never particularly impose himself, but always provided some amazing riffs and instrumental sections that made you feel guilty for not paying him more attention in the first place. BUT NO MORE. That corner man - Nicholas Pipe - has branched into new territory and started a perfectly reinvigorating project known as Mogerlaine.


Beautifully juxtaposing somber vocal melody with heart-warming guitar riffs, the balance provides the right amount of the 80s that got slightly too lost in the electronic wash of synths. Get ready for a new band for 2015 that are so pretty they might as well steal your heart and repackage it into an origami crane.


New stuff sounds superb. Vocals remind me of The National with plenty of Smithsy melodies. How are you feeling about them? And who is going to form the Mogerlaine train?
Actually a few people have compared my vocal style to Matt from The National, which I never thought of myself but I'm definitely happy with since I really like him haha! And that's been the main challenge of this project since I've never sung before, but I'm glad it's coming across nicely - feels like I'm getting the hang of it. Haha also aboard the Mogerlaine train will be Anthony Katern (from 1757) on bass, and my mate Grady Hudd on backup guitar (who - like Ash - has never been in a serious band before, but shreds).
How do you feel about singing live? Is that next step going to be daunting, or is it something that happens is happening in pracs?
It's started happening at rehearsal - I don't want to talk myself up too much and end up disappointing you! But seriously, I hope people will be pleasantly surprised when they see me up front singing for the first time. That's how a lot of people have responded to hearing the vocals on record, so I want to continue the trend live. And I won't start gigging until I'm comfortable with it and the band is happy too. Also it might sound weird, but singing has given me a whole new perspective on guitar, and how to arrange my live performance... it's a balancing act between the two but I'm obviously a guitarist first, so that can't get left behind!
What new things have you learned about guitar? A shifting concept of your role in a band is important. Pigeonholing is dangerous territory.
I've basically learnt to do more with less - in Seventeen Fifty Seven I'm a pure lead guitarist, adding motifs all over the place and colouring the sound with different tones and effects... but now I'm singing and playing a smoother style of music in Mogerlaine, I often find myself encouraged to stick with a few nice tones and emphasise the dynamics more. There's still plenty of lead breaks and I make good use of my pedalboard - but I save most of that for the instrumental sections of songs, and make things a bit cleaner while I'm singing.
Was there anybody in particular that helped you with vocals? How did you go about training yourself?
I've been experimenting vocally by myself to see what works and what doesn't - but mostly I've been coached by my good friend Clementine Joyce-Tubb. She's an amazing singer, and a fantastic person to work with for confidence-building, so I'm lucky to have her on my side. Very modest as well, but I'll keep telling her how much I appreciate what she's done for me! She's contributed some of the harmonies on the EP and I'd like to get her involved in the live show as well. Hopefully she'll have some solo music of her own to share this year so look out for that too!
Were these songs that you had been sitting on for a while or did these come recently?
Bit of both - some of the riffs and lyrical ideas have been kicking around for a couple of years now, but I only fleshed them out and pieced the songs together in full once I formally began the project and started working with Ash in 2014. That was the idea of Mogerlaine right from the start though; an outlet for all these riffs that I couldn't pursue with Seventeen Fifty Seven because they were a whole different flavour of their own.
And, if someone was to tell you what your music is about, what would you hope for them to say?
My lyrics have personal significance, but I've also tried to make them ambiguous enough for people to take their own meaning from them. So I guess if someone was to tell me what the songs were about, I'd hope they could do so in the context of how certain lyrics resonated with them, or how their interpretation made them feel overall. I intend to publish the lyrics as well somehow - maybe in the EP sleeve or online. But I know there's also people who don't really care about lyrics... so let's hope they think it's about cool guitar music eh!
Last book you read
Ansett: The Collapse (Easdown/Wilms).
Last album you listened to in full
I think The Strokes - Is This It? Either that or DJ Shadow - Endtroducing. I'll confess I'm a shuffle kinda guy though.
One great thing about Adelaide.
Josep Gombau.
You are mayor and can change one law for SA, what would it be?
Reform venue licensing conditions to safely encourage more activity outside venues, and eventually more European-style terrace bars.
What do you think is needed from a good front man? Do you feel like you are making this transition now into the figurehead of the band?
I think a good frontperson needs to engage with their audience - the people are watching/listening to enjoy themselves, not to help you enjoy yourself, and you need to respect that. It's alright to be a bit nonchalant, but you can tell straight away from a frontperson's attitude if the band either appreciates their audience or just doesn't care. So I'm beginning to understand what I need to do, and I'll fine-tune it all when the gigs start.
What was something you had to overcome when it came to singing? When did it feel like it was clicking?
Just the confidence barrier really, like everyone does to some degree - but that goes away pretty quickly. I think the whole idea of singing clicked for me after I recorded River and people associated me with a certain vocal style, which was really cool. But it's still in the process of clicking live because I eventually want to be a more spontaneous, improvisational vocalist. Until I get there I won't be truly satisfied myself!
Mogerlaine have a show coming up Saturday 18th of April at the glorious Ed Castle. More details to come soon on that side as well as the EP launch, stay in tune with Mogerlaine at the
facebook home
of residence.
Powered by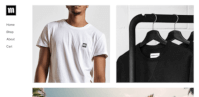 Create your own unique website with customizable templates.