Interview by Brett Pike

Formed following the break-up of their previous bands, MADWORLD came together near 18 months ago, strolling out of the wreckage in demin jeans and flannelette shirts. Hitting the ground running from the start, the trio played a heap of shows alongside fellow rising locals Young Offenders, Glass Skies, and The Pits, crafting their garage sound.

Two weeks ago, MADWORLD released their debut EP Fractures, and we shot some Q's to the guys coming out of their first release.
How was the launch night? From all reports it was a stellar night for an EP launch and came together really well.
Yeah, we were stoked with the turnout. The venue was bursting despite all the other Fringe Festival madness that night.

With a venue none of us have played before, we were really happy with the sound and the setup. Pirie and Co is a great new live venue with a good vibe and great bands gracing its stage on the reg.

We love our support acts and strongly urge you to check them out- Lucid Dreams and Chimp Chomp were top notch indie bands. Luke Carlino is such a talented solo artist. We were also honoured that Sailor Jerry got behind us and that Estivle Lane clothing supplied us with giveaways.
With the first EP now under the belt, what's the next step? A possible interstate tour? Where to from now?
Yes, with Vince's wedding finally under the bridge last weekend (sorry Mel) it's guns blazing for an east coast tour- Melbourne and Sydney first. We are also pumping out some new tracks to hopefully start pre-production for our album release next year.
Would Jez have been able to break all those burning concrete blocks with his hands or would his strong bass riffs have done the job?
(see video below)
Jez has trained in muay thai most of his life, but we all very much doubt he is that bad ass. We wouldn't let him turn his bass up that loud either- it's already quite loud in our mixes. So fortunately no concrete blocks will be harmed at any of our shows.
You guys have played a bunch of shows with a host of Adelaide's most talented bands including Lucid Dreams and Young Offenders, who's your favourite band to play with?
Lucid Dreams and Young Offenders are our homies, having played the most shows with both those bands. All the lads in those bands are legends and we always enjoy those gigs. If you don't know them, you will- they're both destined for big things. World Wild are band mates and we had a blast playing with them too.


We wouldn't mind being chucked on a bill with mates Grenadiers or Paper Arms either! (hint hint).
Having played in previous bands, has it made it easier to work together and get on the same wavelength in terms of where you'd like MADWORLD to aspire to?
Most definitely! We all gelled instantly as a band. We barely even practice- nothing can really compensate for years of stage experience. We just try and let things happen organically too. We are just trying to enjoy ourselves and see how far we can get. No plans for world domination, but if we conquer the globe, that would be cool too haha.
Given the opportunity, which festival lineup should MADWORLD choose to play between Splendour In The Grass, Fuji Rock or T In The Park? and why?
Pato would be keen to play Fuji, but it could be too premature haha. Jez went to Splendour in the Grass last year and hung out with Sahara Ray and a few pro surfers, so he reckons it was all time. So Splendour would be first on the list for him. We don't even know the other festivals… does that make us old and out of touch?...
Best venue in Adelaide?
We are actually loving the Crown and Anchor, affectionately know as the Cranka. The sound is good, and it's a small room with a good history of supporting local music.
Powered by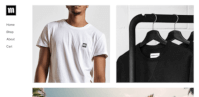 Create your own unique website with customizable templates.