Interview by Megan Tucker

Lost Woods. With a scintillating live show and mind warping riffs, they are currently traversing the country in support of their latest single Ancient Psychic Tandem War Elephant following a packed local show earlier this year at Rocket Bar. With shows in Brisbane, Sydney and Hobart to come before roaring back into Adelaide, we got a hold of Tom Baird about Holy Holy, TV quotes and touring when money allows.

Lost Woods return to our fair city on Friday 24th April @ Pirie & Co. Social Club, closing out their single tour, and you can guarantee we will be there. You'd better be too.
You've had some big props from triple j presenters and have a building fan base, does that influence the way you make your music or do you just create what you personally like?

Haha I think fans is stretching it a bit, maybe friends and friends dragging their friends to gigs. No one has really spoken to us about our music other than the occasional polite pleasantries after a show or something. We kind of just do what we do.


Where do you get your lyric/sound inspiration from?

A mutual interest in Seinfeld and Jeff Buckley is the glue that holds this band together so they're probably our biggest influences/inspiration.


What song are you most proud of and why?

I'm not really proud of any of our songs haha, I think we can write better songs than we've done up to this point. Whenever Pete unleashes like at the end of Monegasque is enjoyable. Whenever Brayden manages to not screw up a song makes me proud.



You guys have played your fair share of support and headlining gigs, who's been your favourite band to play along side?

We supported Holy Holy last year and they were the perfect example of how to go about things on and off stage. They were like the Swiss team on Cool Runnings and we're the Jamaicans (Brayden's the dumb dreadlocked guy with the pet egg), we even started counting in songs ein, zwei, drei. As far as local bands go The Informers, It's a Hoax and Dan White are all bands I love and they're great people too.


Do you have any pre-show rituals?

No not really, drink water and pee lots. We do have a post show ritual though, which is pizza at APH on West Tce at the end of the night, we're high society as you can tell.


Ancient Psychic Tandem War Elephant is from the adventure time tv series, what are some of your other stand out TV quotes?

Great question...

"I felt such a feeling of power, like God must feel when he's holding a gun" - The Simpsons
"I'll take you out for a meal with Mr and Mrs. Pain. Order up some violent quiche" - Mighty Boosh
"My son's name is also Bort" - The Simpsons
"prett-ay, prett-ay, prett-ay, pretty good" - Curb Your Enthusiasm
"get a job? Just get a job? Why don't I strap on my job helmet and squeeze down into a job cannon and fire off into job land, where jobs grow on jobbies" - Always Sunny in Philadelphia
"Hi, I'm a recovering crackhead. This is my retarded sister that I take care of. I'd like some welfare please" - Always Sunny in Philadelphia
Favourite venue in Adelaide?
Rocket Bar. The load in/out is a nightmare though but that's because we're lazy and don't like climbing stairs.

As a band you are creating lasting impressions and memories for the people that come and see you guys play, what are some of the live music you've seen that is really etched into your brain good or bad?
Big Scary have been great every time I've seen them and Sigur Ros were really captivating too. Fidlar are the most entertaining band I've seen. Luckily I haven't had a bad concert going experience.
And finally whats next for Lost Woods, a new EP? an extended tour?
We've got another single recorded and ready to go so we'll release that in a couple months. Hopefully an EP or album at the end of the year. Plus as much touring as we can afford haha.
Powered by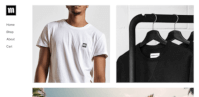 Create your own unique website with customizable templates.