Interview by Brett Pike

When they start up, it's gonna hit you. Hard. Moonfaker have been cruising the local scene for little over a year and hit the studio recently for their debut EP, Marceline. Their garage, turn of the century grunge sound has seen them share stages with other core grunge-type bands in Radelaide such as Charlie Monsoon and Hillside 3.5 (Matt Hills always bringing the goods). Ahead of this Saturday's EP launch at The Hotel Metro, we hit up lead honcho Lewin Day about a whole bunch of other firsts he's come across.

First time you ever picked up a guitar?
Kindergarten. This dude brought in a bunch of instruments for all us rad 4 year olds to play, and showed us how they worked. I was pretty investigative and didn't really "get" how frets worked so I was playing with the tuning pegs and he took it off me... come to think of it, he was kinda rude! I mean I was four, dude. Got my first guitar at 13. And oh what a moment it was.

First band you ever played in?
Hatmandü. Me, my mate Bryce with his classical guitar, and my mate Callum on "drums" - he wasn't a drummer of any sort but he had biscuit tins and a 2L bottle. I really wish I was making this up but we actually did that for a while and did a bunch of "recordings". Serious fun. I grew up a little and eventually started a slightly more "real" band called Envy Street with Bryce once more and a kid called Marty, we played a show with Horror My Friend way back when...
First scar / bodily wound you received after thrashing band prac / show?
...and it went off. The crowd was really getting into all the acts that night. Afterwards I'd had these permanent textas and everybody was drawing all over everybody else, and this girl came up to me and asked if she could scratch me and leave a mark "for 2 or 3 days". It sounds pretty odd but in context it was just like "lol sure whatever!" as everyone was just having a good time (and was slightly intoxicated). She drew blood, had skin under her fingernails... and I've still got the scar 3 years later. Lasting reminder of a wicked show.
First thoughts after hearing your favourite band for the first the first time?

Brand New. I just didn't get them; I didn't like it at all. I'd listened to them because I liked this girl on Myspace whose photos all had Brand New captions. High school, right? Anyway, it was like a year or two later and someone on the graveyard shift on 3D played one of their tracks and I was just blown away. I've listened to their first two albums more than anything else.
First run in with the popo?

Road trip to Melbs. Heading back to radelaide, my mate Bryce took his one and only shift driving. He got in the car, struggled to get out of the service station, and started to crawl up the road. Victorian cops near the border saw a long haired dude driving with P-plates and pulled us over straight up, searched the car.
"Ya know what we're looking for?"
"Nope."
"Drugs."
"We're... nah, sorry man."
They let us go, they could tell we just weren't in the mood.
First song you tracked for the EP?
Marceline
.
Title track, and the first song Moonfaker learned as a band.
First show Moonfaker ever played?
We played as a two piece at Cranka back in January 2013 - me and the original bassist. We've come a long way.
First gig/festival you went to (without your parents)?
Arch Enemy at Fowler's, years and years ago, probably 2006 or 7. Bryce (I swear I have other friends too) bought us all tickets for his birthday. Angela Gossow killed it, was fantastic. For the first two years of my young life, I only saw metal bands. \m/

First vinyl you ever bought?

Placebo - Meds. Great track. From the Muses back when it was still in Rundle Mall.


First piece of advice to anyone thinking of starting a band?
Find the right people and enjoy it. If you're not having fun, don't even bother.
First and last thing anyone should do Saturday July 12th?

First thing - have a good breakfast, take the day easy, warm yourself up, do some stretches. Call your mum.
Last thing - hit the Metro for the EP launch and get completely reckless on the dancefloor. Make it one to remember.



Moonfaker's Marceline EP with be taking place at The Hotel Metro this coming Saturday 12th of July. Massive night for all with an incredibly strong line of supports including Valkyries, Ghyti and Alpha Beta Fox. Details here


ALSO ALSO Lewin Day is launching his very own guitar pedal but he needs your help! If you dig Moonfaker, live music or just and all round good party person, head on over to their Pozible page and make it happen!
(All pledges come with a lifetime guarantee of good guy status)



Powered by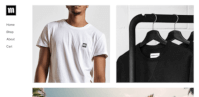 Create your own unique website with customizable templates.