Interview by Ian Hooper

On the back of their new self-titled EP release, we got a chance to get some questions answered by Last Days of Kali's guitarist, Kim Roberts. It was less like an interrogation, and more like a conversation around the meaning behind the band's name, their D.I.Y approach to their release, and pedal infatuation.
So, how long have the ideas for LDoK been kicking about the Adelaide traps?
We've been gigging since May last year, but Luke and I have been friends for a long time through our old bands and have talked about starting a band for years. When we finally started jamming a few years back, we wondered why we hadn't started earlier because it just clicked. Things really fell together when Liam joined us. All of our songs were written in jams… We pretty much just get in a room and play. We've never really come to rehearsal with pre-written material and that's the way I like it. It's very much a collaborative process.
I wanted to find some information on the Last Days of Kali. I asked Google. I found information on a book that the dark fantasy novel that has been described as 'sardonic', 'vicious', and claims to 'stare deep into the heart of the cruelest monster of all: man'. Glaring sexism aside, is there any influence from the novel to your sound?
Haha the book doesn't really have anything to do with our name… I haven't read it, so I can't really comment! Our name actually came from a climate change documentary I happened to stumble on one night. A woman was talking about wild weather being "like the last days of the Age of Kali" or something along those lines and I wondered what on earth she was talking about! So I hopped online and had a read about the Age of Kali Yuga and found it really interesting… If the interpretations I read are correct, it's a period of time when people become consumed with selfishness, there's war, crime etc and when the cycle ends, it's meant to usher in a new period of enlightenment. We liked that while the name sounds dark, there's also a sense of hope.
Simply put, your music is epic. Is there a specific time/place you feel best suits the aural plentitude that is LDoK?
I don't know! When we're playing, I'm so absorbed in what I'm doing, I don't really think about anything else. To me, it's more about a feeling than a time or place. If I had to think of something, I could say the stereotypes of the genre, like mountain ranges etc, but different songs would make me think about different things anyway – one might remind me of a stampeding war horse and another morning sun through the fog. But whatever you feel or see, really. Someone once described our music as the soundtrack to a terrifying movie, yet somehow still calming and we kinda liked that!
You have recently released your debut self-titled EP, and most of the recordings were done independently. How did you find your recording process?
Lengthy! I can't say arduous, because it wasn't really at all. It just took forever. We did the tracking over a year ago just after our first gig, but due to our crazy timetables and various other factors, it just took us ages to get around to mixing and mastering and then to get a result we were happy with. I think because we sat on the tracking for so long, the way we play the songs has changed and we've upgraded our equipment. So when it came to mixing, we were trying to make the recordings sound like the songs do now, which they obviously can't. But it was quite enjoyable actually. We experimented with loads of mics, a ridiculous amount of tracks for a three piece and learnt a lot. There's certainly things we'd do differently next time, but on the whole we're quite happy with it. We also pressed the CDs ourselves, including designing the artwork, screen printing it and making the cases by hand, so it was a satisfying process.
Oh, your own artwork too?! Awesome. The cardboard cover definitely feels better than its plastic counterparts. Is there any significance of the paper cranes for the band?
Not especially. We were thinking of line drawings to make the manufacturing process easier to do ourselves (we were pretty keen on the whole DIY thing – both cost and aesthetics), so that drove the design a little. The cranes were an idea of Liam's and we liked the look of it with white paint on card.We pretty much had the design all done after the one session. Luke spent ages thinking about how the production side would work and made us the associated paraphernalia.
The LDoK EP launch that happened a few weeks ago at the amazingly loud Cranka involved a torrent of visceral sound. Could you fill us in on what went down that evening and how you found the night?
We had a lot of fun! When you've been working on something so long, it's really great to get it out there. My overarching feeling was relief – relief when the CD was finished, and relief that people came! I was so glad for the support and continue to be pleasantly surprised by people's reactions to us. As far as playing, it's always fun. I'd be worried if I didn't enjoy myself on stage. We were also really happy to get such an excellent line up – I felt priviledged to play with some of my favourite local bands in Sparkspitter, Alpha Beta Fox and Tiger Et Ghost. There's some talented people in this city. It was a great night.
You seem to have an affinity for pedals. What is the newest one you have added to the collection and what was the reasoning behind the purchase?
OOH YEAH! I looove pedals. My latest acquisition is an EHX Cathedral Stereo Reverb pedal. I've wanted a reverb pedal for a long time, as I've been relying on my amp reverb (which doesn't have a footswitch) and my delay, which really didn't suit some of our existing songs. I wanted that glorious shimmery wash without the repeats. And the Cathedral had the best flexibility and tone for the price. It was really the "infinite reverb" setting that sold me. How could I NOT like infinite reverb. Expect to be hearing that a bit in the future. A lot of my ideas come out of the sounds that pour from my pedals, so every new pedal is an exciting new well of inspiration too.
The rumor of a new song or two has me antsy. Will your next show involve a bit of a different set? AND, does this mark a change in sound or influence?
Yes, we plan to update our set quite regularly from now. It's been the same for too long while we focused on finishing the recording and getting ready for gigs. Writing new material had taken a back seat, which is not what we wanted. There'stwo new tracks which we'll play at our next few gigs and after that, there's several that are partly written that aren't too far away. It's really great to be playing new material. Some of the tracks are a bit of a departure from our existing material – a little faster and more angular/angry – but some are in a similar vein to our current sound. Synth is also starting to feature more, which is great. I don't know if it marks a change in influences, we still like pretty much the same things, but we just might be starting to express a few more different elements of our taste. Our sound is definitely developing, which is healthy in my view.
With the whole paper crane thang, can I assume Japanese noise-rock bands like Mono are an influence? I heard the mention of Russian Circles too. What have you listened to in the last year that seems to being channeled in the new LDoK?
Yeah, we're into Russian Circles and Mono and all that kinda vibe. We love Sigur Ros and are quite taken with their new album – it's darker than anything they've released in a while. The new Steering by Stars album too. All of our tastes are pretty broad though, so how much of what we listen to is reflected in our music, I'm probably not the one to make the call.
Does the band have a 6-12 month plan? Tours/Fringe/Ominous Motion Picture Soundtracks in the works?
We don't have a formal plan as such, but we're definitely keen to record an album at the end of next year, time and money permitting. So, lots of gigs and lots of writing. I'd really love to do a soundtrack at some point and if we had the opportunity it would be fantastic. But at this point, we just want to write, play and record. I'd like to play some interstate shows in the next year too.
Finally, in your opinion are zebras black with white stripes, or white with black stripes?
Hahaoooh, that's tricky! I guess I always thought of them as white with black stripes as their ears and belly are mostly white. Cartoons are also probably to blame for that. But now that you point it out, it could go either way, really! I'm sure biologists would be able to tell us!
Listen/purchase/download Last Days of Kali's EP from
bandcamp
.
Powered by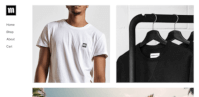 Create your own unique website with customizable templates.