Interview by Jacinta HriskinAn incredibly talented singer songwriter, Julia Henning is putting on the finishing touches to her debut LP, Fledgling, for it's upcoming release later this year. As we speak, sitting atop the Triple J Unearthed charts, Julia has taken on more than most throughout her life and come out a stronger person. Writing songs when most of us were getting our pen licenses and recording songs before high school, it's safe to say that it was in her blood. Her previous EP releases have granted her a sold out show at the Sydney Opera House, we can only wait and see how far this album will take her.
Congratulations on your recent single launch for your song "Tempest"! How was the night at the Promethean on January 24th?
Thank you! The atmosphere on the night was incredible. It's wonderful to have people get so excited about something you've worked so hard at.
Many of the lyrics in your songs tell a story. Where do you find the inspiration?
I write a lot about moments or emotions I've experienced. I find it easier to write solemn songs, so inspiration often comes from the times in my life that have been the hardest to get through.
Songwriting can be tedious and time consuming. Are you ever completely satisfied with a song? Do you have a favourite?
Tempest was actually one of the most frustrating songs to write. It took two years and went through six variations before it felt right. But seeing it now, as the first single from the album, is the best feeling. One thing I learnt early on is that your songs have a life of their own and even once you release them, they change and move. People pick them up and put their own seal on them. So, you can't be too precious. They're organic creations, not something to be clinically picked over until they're 'perfect'. I'm very proud of all of the songs on the album and I couldn't pick a favourite.
When you're not writing music, recording and performing, what do you enjoy doing with your spare time?
I'm pretty simple to please; I like to spend time with friends and family. Relax at home or go for a bike ride. Recently I've been spending a lot of time at my sister's brewery (Smiling Samoyed Brewery) down in Myponga, where she and her husband are just starting out as brewers and chasing their dreams. Occasionally I'll play a few songs up there with my piano player Matt and just enjoy the view and the company. I love music, so it doesn't really feel like a job.
What are your thoughts on social media, how has it helped you as a musician?
There's never been anything like it for spreading your music around the world so easily. We have fans all across the globe that we get to connect with at the touch of a few buttons. It's pretty amazing. Not only that, but we get to hear music from everywhere and be influenced and inspired by it.
Your heroes, inspirations and idols, who are they?Leonard Cohen
is the artist that I most aspire to be like. His lyrics constantly inspire. He is so kind and warm to his fans and so humble. On a more personal note, my family is a continuous source of inspiration. We're very close. My parents are the kindest people in the world; my sisters are both incredibly talented and driven and we all support each other in our decisions and dreams. I'm very lucky to have them.
If you could collaborate with any celebrity, dead or alive, who would it be?
Without a doubt,
Leonard Cohen
! Though I'm not sure I'd be able to talk or move in his presence. I think I'd be too nervous!
What do you enjoy the most about making music?
There are so many things to enjoy. I can't imagine doing anything else, music makes me so happy. I guess the best part is when you've written a song and someone tells you what it means to them, that it touched them or helped them in some way. I get a lot of people coming up to me after shows and sharing their stories and that is always my favourite part.
You recently released your latest single 'Tempest', is there anything you would like share, from new merch to upcoming shows, tours or songs?
Tempest
is currently only available for download from
Triple J Unearthed
where you can get yourself a copy for free. We also recently released a great music video, directed by Melvin Montalban which is well
worth a look
! We'll be touring soon and announcing details of the
Fledgling
Album's release, so watch this space!
Good luck on the release of 'Fledgling', I look forward to hearing it!
Thank you! We can't wait for you all to hear it!
Powered by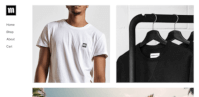 Create your own unique website with customizable templates.