Interview by Brett Pike

With their notorious flowers parties and open marriages type relationships to multiple local bands and artists, Jimmy & The Mirrors are name that you better get used to hearing. Fresh from their single launch at the Pirie & Co. Social Club last weekend to launch new single Hailstorm, we shot some Qs their way and what we got back was a band that is just winning. Pure Charlie Sheen winning.
The other weekend you had the first show on your
Hailstorm
tour dates in Robe. What went down, why Robe?
Because Robe is one of the Greatest places on Earth! We played at the Cantina, a little mexican hut constructed by a legend of a bloke called Tom. He makes awesome hot sauce as well. It was a cracker of a gig and we had heaps of hot sauce.
Hailstorm, it moves your sound into a new setting. How was it written?
With lots of voodoo vibes. We were just chilling in new caledonia, no biggie, when Dom came over with a flamenco guitar and started serenading the local Frenchies. Someone sang a harmony, zooba got out his trumpet and poof! It was on!
What do you feel when you hear your own music?
I often feel my guitar. Thats generally what I'm playing. Otherwise I feel my balls and try to soak it all in.
The trumpets are an incredible addition on your track
Hailstorm
, what made you chose that direction for the song?
This guy we know, we call him zooba, asides from that we're not sure about much else of his history. He's always playing his trumpet and literally begged us to play on a few songs. We let him and it sounded good. We don't often let him out of his cage at night though.
We had a chat earlier this year with
Timberwolf
( aka Chris Panousakis ) and he said that your Flower Parties are one of the best shows to be involved in. What makes them so good?
Because it combines the best two things in the entire world! Flowers AND parties! Just picture rocking up to a party and there are no flowers?! You'd be like, "Bro, where are all the flowers? They could have mad this a really good party!"
Does having band members, who work with a variety of artists (
Kaurna Cronin, Jesse Davidson, Brokers
), help or hinder in the writing of songs?
It hinders it for sure. These guys are always off touring around the country, getting accustomed to touring in luxury with business class air meals and the like. Then they come back home and they're all like "we need good French Champagne to write a hit Jimmy" So I tells them "Yo man, you gotta get back to your roots and start feeling what the people be feeling." Ya dig?
What lies ahead for
Jimmy & The Mirrors
?
Good Question, very good Question. Well, we got the EP coming out with a few more songs, so might get that one pumping which should be pretty cool. Yeeeew!
Powered by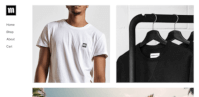 Create your own unique website with customizable templates.