Words by Brett Pike

He featured alongside fellow Unearthed High Finalist Japanese Wallpaper on this years Triple J Hottest 100 with track Between Friends, a talented singer/songwriter dude who is now old enough to drink all the beers with the boys and has more music for you, less lonely more grown up definitely sensual and deserving of your ears.

He is Jesse Davidson. Last week we shot some words at the rapidly rising artist about his upcoming second EP, the Dream Team reunion at Laneway Festival and how life and love would pan out between himself and lover Chris Panousakis also artist known as Timberwolf.
We start, just shy of a month ago, to January 26 aka Australia Day aka Straya Day aka Hottest 100 Day where we creep along to approximately midday Adelaide time and the countdown has begun. First couple tracks down including another local Tkay Maidza with Switch Lanes, and we hit number 97. That tune Between Friends by Japanese Wallpaper ft. Jesse Davidson. So where was Jesse? Surely not sleeping in.

This unfortunately is true. I didn't want to get my hopes up or anything so I didn't set my alarm, and then luckily I woke up to someone texting me to tell me it got in. So you know laziness isn't that bad.


Getting over the trauma of almost missing his moment in the sun, Jesse grabbed the largest cone shell from the Semaphore beach to gather the Dream Team the following weekend. It's time for Laneway Festival and Jesse is bringing the whole ensemble with him. I'm not quite sure how he got in touch with MJ though... but he did catch up with the lady of the festival, Miss Angus DeMarco.

Playing with the dream team was an exhilarating experience. I had Gus from Papa Vs Pretty on bass, Ben and Michael from Brokers playing drums and synthesiser, and Chris Panousakis from Timberwolf playing lead guitar. I also had Mike Tyson and Michael Jordan doing backing harmonies, and Tilda Swinton playing the clarinet. I didn't invite Tilda though, she's a hard lady to say no to.

(On meeting Angus DeMarco)

I didn't hug her because that would be really weird but I did say hello and she told me that her son smokes too many ciggies. She was very proud and we had a good chat, and then Ben danced with her because he's a sick man and preys on older women.


Having released his first single off the upcoming second EP (to be released later this year),
Jesse
spent his time laying down the tracks with producer
Jake Miller
in London last year, on a pretty sweet boat too! Having written much of his debut EP while 16, naturally the man has grown and so too has the delivery of his music.
Half of what I wrote on the first EP was written and recorded by myself when I was 16, so naturally it's going to sound different. I think the new EP is sounding a lot more fleshed out and is a better representation of the music I want to be making. I didn't really know what I was doing on the first EP. And it helps that I've been touring and writing more so that I have a better idea of what makes a good song and what doesn't.
It's pretty different, a lot more synth orientated stuff. It's a lot bigger sounding but with some similar themes to the first EP, probably a bit less lonely.
It wasn't stressful (recording the EP). It had stressful moments when we were trying to work all this recording around playing shows, and it was very stressful when I got an ear infection after my show in Berlin and missed some days of recording. But it was a great time and think the EP turned out really well.
For those of you who don't know,
Jesse Davidson
and
ChrIs Panousakis
(
Timberwolf
) are pretty good mates outside the Dream Team. Having been together on Rip It Up's Hot Six of 2014, shared a stage many a time, you only need to glimpse either's Facebook or Instagram to gauge the depth of their bromance. So deep in fact, that Jesse is able to overlook the fact that Fergie would attend their wedding and love Chris anyway. How would their life together roll out?
First stop, Byron bloody bay mate. Myself, Pano, and the shaka bois hit the great open road with nothing but beers and good vibes with us. We get to Byron Bay and have a couple of tinnies, soak up the lush vibes, and Chris and I have an impromptu gypsy wedding on the beach. Michael Jordan is my best man at the wedding, and his maid of honour is Fergie. I'm not a big fan of Fergie but Chris is a strong independent woman and I respect his decision.
After the wedding we get the next plane to Bali and hit up the first strip club we find. Chris loses his life savings on the pokies and I get Bali burn. Our relationship never recovers. We get a divorce and the following month I see Chris flirting with Ben Zubreckyj. Appalled by this I go to a state of the art plastic surgeon and have dangerous, never before tested transformative surgery to become a bird. The operation is a success and I soar off into the distance whilst 'I Believe I Can Fly' by R. Kelly plays. Chris sees me on a date with Ben and realises what a mistake he's made, but it's too late. I fly off into the sun and a single tear rolls down Chris' face.
Roll credits.


You can catch Jesse and most of the shaka bois (Timberwolf is currently touring his own single Fallen Sun) on the road for the next week and a half, showcasing heaps of new tracks including current single
Laika
(it's about a Russian space doge).
Jesse Davidson
will be finishing up his tour next Saturday evening (Saturday March 7th) at
The Exeter Hotel
with old mates
Brokers
in support.
Tickets available here
. In the mean time, get yourself accustomed to the new single and wait eagerly for next week to roll around.
Powered by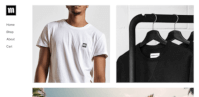 Create your own unique website with customizable templates.