Interview by Steph Komar


A comfortable
warmth has bestowed upon our calm little city this week. Don't be fooled though, something big is brewing. Our favourite little cafés are dotted with a myriad of colourful posters, shops for lease have been transformed into pop up We Don't Even Know
Yets
and customer small talk is all of a sudden completely music, art and theatre oriented. Too bad if your body is still recovering from Laneway last week because The Fringe is here!
This next month is going to be wild, especially for the boys in
Devils Crossroad
who are about to debut their newest EP
Gypsy Kings
.
The lads' EP Launch is the first of many amazing Fringe gigs heading our way so
The Bakehouse
decided to catch some of the excitement that's wafting through the air. We had a sneaky little Q & A with
Zac
from
Devils Crossroad
to talk all things
Gypsy Kings.
Steph
: So
Devils Crossroad
hit the studio real hard last July to record your newest jams! Six months down the track and it's time to debut, how does it feel to be releasing this musical offspring to the world?
Zac: It feels amazing to finally be releasing Gypsy Kings! As you said it was recorded in July last year so it's taken a while to get everything together but the hard work has finally paid off and it's very relieving and exciting to be releasing it to the masses.
Have a little stalky stalk of your Facebook page and it's plastered with good words on the release of your latest single. '
Sleeping With Venus
' is the funky clean tune you've decided to showcase first, and goddamn is it catchy. The silky riffs run pleasantly alongside the "da da da's," were they a ploy to hook in juicy singalongs at your live performances or are they a beautiful accident that you decided to roll with?
They were a bit of both actually. Our singer Nathan came up with the da da da's as a melancholic sort of chorus to contrast with the sadder lyrics in the verse. The verse lyrics have a lot of pain and despair in them and then the chorus comes alongwith the sort of "everything is going to be ok/ head in the air"da da da's. The rest of us thought it was heaps catchy so we decided to roll with it.

Hell yeah, that's so much fun.
Without spoiling too much for your eager fans awaiting the official release of the EP, which new track are you guys most excited ab
out releasing?
For me personally I'm most excited about releasing the tracks 'Psychedelic Jesus' and 'Gypsy Kings'. These two tracks were really fun to work on in the studio and have a lot of stuff added
to them that you can't do live. Things such as
double trac
king, over
dubs and backwards guitars- so th
e two tracks are going to sound a bit different
than how we play
them live and its
gonna
be awesome to show people that and see what they think!
Do you find that Devils Crossroad write best when you have raw jam sessions or do you prefer to write your parts individually to present to the rest of the band?
It's pretty much 50/50 in that aspect!
Either Nathan
will come
up with some chords and lyrics,
then the rest of the band will fill in with their parts, or
i'll
come
up with all the guitar
to a song and Nathan will write the lyrics for them
. S
ometimes Stefan (the drummer) will have a completed composition that
Nath
will write the lyrics to
,
and the rest of us put our own
little
twists on
top of that
. Other times we'll just be me
ssing around
, jam a cool riff,
then we build on that and come out with a song!
In the raw learning years yo
u've spent with your instrument
, what was the most helpful thing in mastering the art of
jamming and expressing yourselves through music?
The most helpful thing
,
especially for me on lead guitar
, I
'd have to say
,
would be experimentation. It's easy to jam with things that yo
u know and are comfortable with,
but when you try and push yourself out
of that and try new things
that's
when you evolve as a musician.
And then
BAM, there you are, playing to a room full of people that are there to hear you and your musical friends! That's amazing. Actually, t
here's been a rumour that there will be a free (yes, FREE) EP at the door on
Saturday night. Please confirm-
everyone loves free things.
Yes!
T
here will be a free EP for everyone who comes
to the show on
Saturday night!
Excellent work. It's already hyped up to be one hell of a show. Attonbitus are a fantastic little ensemble too- you guys have definitely chosen well! Who have been your favourite Adeladians to play alongside over the last five or so years?


There's been quite a few actually! From bands that our friends are in or bands we've just met from being on the same bill! A few of our favourites have been: Causing Hammock, Apollo Sons, Jungle City, The Bakers Digest and Cobra!


Real talk now, the first I ever heard about Devils Crossroad was a few years ago when a good mate of mine stumbled upon your gig partway through his first acid trip. Other than the fact that he had the sickest time ever, he also said that you guys gave off a super strong Chilli Peppers vibe! Is this a good thing for you?! Would you claim the same statement now several years down the track?


That is an amazing thing for us to hear and a huge compliment! We all love the Chili Peppers and they are a massive influence for us! I reckon so we do try and make our music fun and partyish which is a lot like the RHCP . We also do a similar thing with our song writing particularly having a wailing guitar solo during an outro chorus very Stadium Arcadium-esque. We never intentionally tried to do this it just happened!

That goes to show that there's a little Anthony Kiedis in all of us. Thanks so much for your time Zac, please conserve your energy over the next few days. Fair to say you'll be needing it on that tiny, beer soaked stage. See you there!


Thanks Steph! Cya at the show!


Catch Devils Crossroad and Attonbitus this Saturday night at the Cranker. $10 at the door, good times and Gypsy Kings come free. It'll be one hell of a show.


Powered by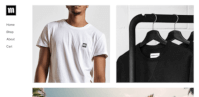 Create your own unique website with customizable templates.