Interview by Brett Pike
There's so many incredible people doing all of the incredible things in Adelaide. One of the most significant of those people, particularly over the past year with the launch of
One & Three
music blog, has been
Courtney Duka
. Interests include sprinkle donuts, cheap wine and live music and we sat down with her last week to chat all things Adelaide music, her love of
Joy & Sparkes
and her whirlwind year in music.
BP: Did you have any idea in mind, while you were studying with Music SA, about a project to what is now One & Three?

CD: Yeah, I originally had an idea to do more of a video based blog. So it was going to heaps of video interviews with heaps of bands and the collectives, and all the people running the events in Adelaide. Ultimate legend Alice Fraser put me in touch with Lewis Brideson and Harry Deadman, and I quickly realized that it would take up a lot of their time videoing all the time and from their it turned into the more word processed form with the month by month features we have today. It's definitely a lot more time consuming than I thought…. Haha

BP: From the first year of One & Three, what are some highlights?

CD: I always seem to forget how much we actually did in this first year.
BP: Well starting off with Mattfest (Hillside Festival) last year too!

CD: I know! So Lewis just put together a little promo video which I'm really excited to show everyone. It's only a quick snippet, but I'm really proud. I think it was pretty good starting off with doing Mattfest because there were so many of my favourite bands there, Lewis and I had only met once before we filmed that and I hadn't done anything on camera before soooo… Extremely awkward video but I think the Day Of Clarity and our FutureSounds videos were my favourite. I think they're both really good initiatives of local people doing some amazing things in the city. My favs, I just really like them a lot! Haha

BP: That Day Of Clarity one especially was a really good one, it seemed like One & Three too were the sole outlet for coverage on the night too!

CD: It was so epic! What a great idea!

BP: A six venue gigfest, of almost all Adelaide bands!

CD: I know right! And the fact that everyone just got really behind it all, that's amazing. That gives me the warm fuzzies. I'm really excited for Footy (Matthew Horvath) to do some more of that, and see what happens with it all next year.

BP: Possibly even develop that into Adelaide's Sounds of the Suburbs slash Blurst of Times vibe.

CD: As well as some music panels and with Proof of Life too. I think it would be fantastic to get all of those kinds of things together and make a, not a BIGSOUND type event, but all with that similar stuff centralised where everyone can come see it would be really cool. Who knows! But yes Footy please do another Day Of Clarity!
BP: With the 1st Birthday Gig on the weekend, as many of us know Joy & Sparkes is a bit of your love child, were they the artists you had in mind for the show?

CD: Joy definitely blew me away from the very first time I saw her. It's been really cool having seen her from the first time at Abbey Howlett's EP launch and watching her set at FutureSounds which became this trap slash banger set, I feel that she's someone could really do anything. She has so much creativity which I really love too.

We definitely pulled her in early and were keen to do something with her. We had so many ideas originally with what we wanted to do, we would've liked to do the whole big rock heavy West Theb, Battlehounds, Horror My Friend kinda gig. It moved away from that and we looked towards some of the other great areas of Adelaide's music and ended up with much more of a producer vibe. I was really really excited that we got Mio added to it so close to the show too. Daily Holla is actually Lewis and Harry. Harry does live in Brisbane at the moment but he was back down in time for the show so it's really exciting to see what those two get up to. Lots of really cool samples of locals getting thrown into the set, it's really cool.

BP: Will we see many more One & Three curated shows after this one?

CD: Potentially… We certainly have a couple of people who help contribute to the blog that are really keen to start putting on shows and we want to get in to help promote a lot of that stuff. Definitely the possibility is there for more shows in the future. And on top of that we have a lot of little creative projects happening, that I don't know if I can talk too much about yet but I hope it'll turn out well. Working with a lot of other really cool people in Adelaide that are doing a few things. Doing some thangs!

BP: Aha, so things! Are we talking a label or are we talking a collective or?

CD: Oooh not a label. Hmmm it's not one that is happening but I do like the idea of combining the efforts between people who are doing similar things, not just music. I'm finding that a lot of the people that are writing for these publications (Music SA, AU Review, TheMusic, Rip It Up etc), there's a lot of crossover between it all. Not something that is happening now but I think the idea of creating one collective umbrella that everyone can work under slash around so everyone keeps their own identity but you can still have a bigger scope and more amazing things can be covered.

I think that wold be really good. We are putting a couple bits and pieces in the YEWTH Mag, Fringe Edition, which I'm really excited about. We'll be doing a couple of interviews for that and put a local gig guide together for their print mag which is exciting. I think that's most of which I can talk about for now… I feel like there's something else but I'll come back to it.
BP: So with the scene right now, we have bands like Grenadiers, Bad//Dreems, slowly picking up the pace with Horror My Friend and West Theb, Tkay playing internationally, Joy & Sparkes now playing across the nation. Where do you see the next crop of artists will be coming through from Adelaide?

CD: Shit. That's a tough one. I definitely think all of them will keep on pushing further, Tkay is going to take over the world. She is going to be a superstar, plenty more to come from her. I'm so excited for the Horror My Friend guys for their album to come out next year, I have had a sneaky listen of a couple of songs and, oh god it's so good. Just right in the feels, I love it. I think it's really good to see The Hard Aches doing so well too.

BP: Including with that a lot of the hard work those guys put in behind the scenes that a lot of people don't know about too.

CD: I know, exactly. It's something that has seemed to pop out of nowhere for a lot of people but they've been working their asses off for so long it's no surprise at all. West Theb I know has got some solid plans in place for this coming year. It's a little surprising that seven rowdy dudes have their shit together so well, a tour to come next too. So exciting! And they've got a lot of support from some key industry people too which is really good for them.

I think some bands like SKIES, Pines & August are going to get up to some good things next year. They just seem to get such an absurd amount of plays so quickly is pretty unheard of. I don't think it's any secret but I think Ollie English is the new love of my life. He is too good! And I'm so happy that he has stepped out of the solo image and has got the backing band together, it just pulls everything together so well. It gives him that bluesy punch that it need and with that behind him there's some cool things coming from that kid. So much talent.

CD: Hmmm, who else.

BP: (Starts signing Mio)

CD: Ohhh my god. Mio. That band that I booked on my lineup that is so amazing. Oh my god.

BP: That band that completely packed out Rocket Bar on their first ever show!

CD: Mio. Holy shit. And if that was just their first show then they have some seriously cool shit coming. Chills down spine good!
BP: So what do you love about all the music?

CD: I just have such a strong passion for live music. I think you can listen to things recorded so many things but until I've seen it live it just doesn't quite to the same. I think live music just pulls people together and you can be in a room with a complete bunch of strangers and all be singing along to the same song. I think that's pretty incredible.

The feels. That's definitely a big one for me. Another one that I think a lot of people don't realise is all the hard work that the teams of people that go into a band or an artist is incredible and it's still a bit of a mysterious world to so many people. I just find it so interesting how everything all ticks and whirrs.

BP: Professionally, favourite part of being in the industry?

CD: On a career development side of things, idolizing someone like Alice Fraser a lot and then now having the opportunity to work a role at next years' Laneway Festival that was part of her role last year. I think that has really solidified where I'm going, you think you're getting nowhere with the amount of work you put in and then when you look back and realise "Oh no, I was a volunteer last year and now I'm actually working there".

I think it's the little things like that that do really help. Honestly I've been really excited for having the opportunity to be a part of and seeing the West Theb guys put their EP was just lovely and how well all of their shows have gone this year.

BP: Now, talking about things on a national level. With Big Day Out closing down last year and Future Music Festival, and now with the announcement of Soundwave being completely fucked. What's your opinion on the current touring festival climate in Australia right now?

CD: I think the model has changed a lot for music festivals. I don't think these really massive touring festivals closing down is such a bad thing. Yeah on one hand it does suck, but in their place there has been a lot of smaller scaled boutique festivals that have started to do some great things. I think the change in the model from these humungous, international sort of Americanized style just isn't feasible over here.

It's too expensive for us to get artists here in the first place and I think it's really hard, Big Day Out was so great with the mixing genres, but I think that is just a bit too hard to do now. Especially when you see punters being charged upwards of 150 – 200 dollars for one day, people just are not keen for that. I think in terms of the drug scene and Stereos, I don't think that'll be back again next year either.

BP: Two deaths and then twenty overdoses in Brisbane alone. I mean…

CD: Yeah. We know people are going to do it (drugs), they're always going to it and I think there's such a focus on just ecstasy, they miss the facts that a lot of people are jacked up on steroids and prescription drugs and all those sorts of things. I think that is another issue isn't it, not even music related haha

BP: The history of music festivals has really gone hand in hand with recreational, mind altering drugs hasn't it?

CD: Yeah and I don't think that's ever going to stop. It's the sad truth, but yeah besides that I think we're on the right track now with our festivals and all the cool new ones popping up. There's a few interstate that I think might start looking at Adelaide but dammit Adelaide just start buying your tickets earlier! That's why bands don't tour here because we buy our tickets at the last possible minute.
BP
: We have been known to get a little bit drunk from time to time. Best venue to get drunk at in Adelaide?
CD
:
Haha ohh there's a lot. I almost hate to say it but Rocket Bar has to be up there. It's just got the whole club vibe going on afterwards. You can see a really sick band play a show and then go I don't really have to go anywhere and can keep on drinking right here. I love Thebby because it's so beautiful and Jive is really good too. And on Friday's especially at Rocket Bar they have those drink specials and you think okay, yep, I'm staying. Well played
Rocket Bar.
Covering all of the things and the feels from Jesse Davidson's dance moves to Ollie English and the like breaking ground from the very beginnings of their journey's into music, you can follow the happenings of
One & Three
over on their
website
,
Facebook
and Instagram @oneandthreeblog for good times.
See you out and about soon, best of human beings!
Powered by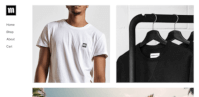 Create your own unique website with customizable templates.