Interview by Ian Hooper

Fresh off the presses, 'Charlie Monsoon' have given Adelaide an album we can rock to all summer long. Filled with massive hook-packed noise and some beautifully discordant builds, this 3-piece twists their US 80s/90s Alt/Rock influences and makes something that you cannot help but move your head to. This week, I was able to catch THE Charlie Monsoon (a.k.a drummer Matt Tropeano) to chat about Hillside fest, the EP process, drumming influences, and the 'weave' of the beast that is Rock.


I guess I have to start with the EP Launch at Hillside/Mattstock the other week. That was a monster of a show. Have you recovered yet?
Haha, it took a couple of Days. Mr Hills put on a great show and we were happy to be a part of it. Its great to able to see some many local bands in the one place. It would have taken me all year to see the bands on that line up at normal venues. Lets hope he does it again.
So what was it that caused the stars to align and allowed Charlie Monsoon to exist? From what I know, you guys were a 2-piece for a little while before 'Frankie Hurricane' joined the show.
Yeah thats right. Todd and I were drinking mojito's on a summer afternoon watching some acoustic acts down at Henley Beach and the discussion came up about how we were both playing bass in our respective bands but it was not the instrument that came naturally to us. So we decided to get together and have a jam. It went well and we started playing some shows but always wanted to add a bass player. It just so happens that the man that made the mojito's for us would become our bass player.
That is quite fortuitous, indeed! Ok - straight up. What is the biggest bestest support spot that the Monsoon have be able to swindle?
The two that come to mind are The Magic Bones from Melbourne and The Mohawk Lodge from Canada. Both of whom are amazing bands and even better people.
So I should totally revisit that EP thing. It is incredible. 'Into The Darkness' is one of the most noisey pieces of gold I've ever come across. I always find it interesting to find out how the recording process and the timing of a release. Has this been a long time coming or was this something that had to happen now?
We initially planned to record some demo's with Matt Hills in March but they ended up sounding really good so we decided to release it as a EP. It was a really quick process done over a few three hour recording sessions. Todd recorded the vocals at home and we mixed it with Matt. We had it mastered a few times by different people and settled on the master that John McBain did. We had it ready to go in September but Mark and I went on some overseas adventures so we decided that Hillside Fest was the best date to release it.
Awesome! Did you get to catch any crazy shows while you were overseas?
Yeah, Mark and I caught Roger Waters do The Wall in full at Wembley. Also saw the Black Angels in Camden. They were both great shows at complete opposite ends of the scale.
I'll be honest and say that drummers don't get as much attention as they should. Especially when it comes to musical influences. Who are your big skin-smacking heroes? AND do you find any of the other instruments you play bleed through into the way that you drum?
Mitch Mitchell from The Jimi Hendrix Experience and Jimmy Chamberlin from The Smashing Pumpkins. Both are overshadowed by their front men but have always been a huge influence of mine.
Playing Bass definitely helps your drumming. In fact we are all bass players so we have an understanding of how important that is. As a band we are still working on our "weave" but with each track we are getting better.
With each track, you say? Are you sitting on any new tracks that you personally think highlight this 'weave'?
Yeah for sure. You can even hear it on the EP.
Caffeine and Codeine
was the first track we wrote as a three piece and it sounds different to the other three. As a two piece you have to fatten the sounds as much as possible but with the addition of the bass it has allowed us to work on a more melodic sound. We have a couple of new tracks we played at hillside and a whole lot of others that we are working on. Another recording will happening in the not too distant future.
Another recording?! You guyyyys. Does the Monsoon plan to make this summer a big one? Is there going to be some touring for the EP going on?
Well we have a few gigs lined up for December and are planning on heading interstate for a tour early next year.
I guess we will have to keep our eyes peeled for when and where Charlie Monsoon will be playing next. This can be done by following them on their Facebook page. Listen to their tracks on Triple J Unearthed and Soundcloud, and make sure to pick up a copy of their EP and merch (including badges and tees) from their bandcampsite.Also, from what this little birdy has heard, Mr. Matt Hills is looking into another Hillside event sometime early in the new year, so stay tuned boppers.For a suss of the carnage that was a very Hillside Christmas, check out Spoz's Rantfor a full photo and video extravaganza. Showcasing 20+ of Adelaide's finest across an alleyway stage and a one of Matt's rehearsal rooms, the event was like unwrapping an aural present every 30 minutes for about twelve hours, AND included three EP launches! Mental shiz, right?Merry Mattmas to all! Let the festivus season begin!
Powered by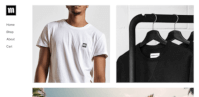 Create your own unique website with customizable templates.