Interview by Brett Pike

Residing in the states' south east centre, Bianca Jane has grown up on a diet of punk rock, hardcore and acoustic ballads ranging from local powerhouses I Exalt and Mayweather to the likes of Jesse Davidson and former Mt Gambier residents Orelia. Growing up playing guitar, it was only until a few years that she discovered her vocal talents too and since then has taken her skills with her to the studio to record what has become her soon to be released debut EP Cheap Rumours.
Music could well be the most powerful form of expression around, with the power to inflict pain, the power to remedy it, the ability to recall lost memories and can act as a confidant and provide support in times of need. It transcends race, religion, time, and is spread throughout the world and human history and for young artists such as
Bianca
it presents an opportunity to make something of themselves and create a better world for it.
I've always loved listening to music, it's always been that place where I can let go of all my problems. There's been so many bands who have got me through some pretty shitty times and I wanted to be able to do the same for someone. I love writing and I loved music so it seemed liked the perfect fit! That all seems really cliché haha
I love that you can just put on a track and suddenly you're healed for that 3 minutes. I love that it brings people together, it's always awesome meeting new people who have the same taste and you relive all your favourite moments with them. Music is so amazing, but people get so caught up in the scene, competitions and the industry when it should just be about the music.
Growing up can be tough at times. There's assholes we have to put with at work, those people who cut in front of you a the bar even though you've been waiting for 25 minutes for a couple of pints, and then there's the people you just don't get. The people who decide it'd be fun to make up bullshit rumours to get a rise out of you or to try and alleviate their social status. Like many of us, Bianca had had enough of the cheap shots and has turned them into inspiration for her debut EP
Cheap Rumours
.
So I came up with Cheap Rumours because every song that's on the EP is basically an exaggerated version of something that happened to me, or a friend, or a friend of a friend of mine haha! So I thought they were cheap rumours, and there we have it.
And from that fuel her debut single
Kids Without A Cause
drew attention on a national scale, with having been picked up on national radio station
Triple J
(I'm not sure if you've heard of it?), with presenter
Dave Ruby Howe
giving the track 3.5 stars and providing Bianca with some ace feedback about her debut track.
I was pretty stoked with that, it was my first official release and it really started to put the wheels in motion, and really got me to start putting my ass into gear!
Originally staying quite humble about the whole matter, Bianca has since expanded her plans post EP release to a complete global takeover and to begin her reign of terror. All jokes aside, the young artist has a few plans on where she'd like to take her music. With fans spread across the country including the iconic east coast surf centre of Byron Bay.

World domination definitely! Haha but I'm looking at doing at a release party and then hopefully take it around Australia and get a bit of a fan base happening. If I can just play a bunch of shows I'd be pretty happy with that.


Bianca Jane has been playing live for several years now, mainly solo sets in and around her hometown of Mt Gambier, crafting and working on her on stage performance. Shows at Melbourne's famous Cherry Bar and the Penola Coonawarra Arts Festival have helped her pick up a few things along the way as to what makes a great live show.

I think you've really got to make a connection with the audience, one of my favourite parts of a show is getting to know the crowd and having a chat to them before and after. I love hearing what people have to say even if there's a little negativity it pushes me harder or I just get them drunk and they seem to love everything haha kidding!


Aside from her own musical aspirations, Bianca is also an avid supporter of her own local scene. Booking shows for other artists and running gigs nights, she's garnering all the knowledge she can about what makes a great night out by learning everything from both sides of the table.

Sometimes a great band can find it difficult to book shows because of friction between themselves and certain venues or promoters. Likewise for venues looking to put on great gigs but finding it difficult as egos and external factors get in the way. We're right behind Bianca when she says we all need to come together, support one another, help these artists get to where they want to go and get around the great venues who accommodate the shows to help the scene not only survive but thrive!

I think it's major advantage knowing both sides to be honest, you learn to respect both the venue and the artist because ultimately we all want the same thing, people coming through that door. There needs to be mutual respect, however unfortunately it doesn't always happen which sucks!

I think sometimes people in the scene see it more as a competition then anything else and I want to stress to people's it's NOT A COMPETITION! We should all be supporting and helping each other! There's nothing better then good vibes and good music!

Currently
Bianca Jane
has dropped her first two tracks off of her forth coming debut release Cheap Rumours, and they are available for your please via
Soundcloud
,
Triple J Unearthed
(don't forget to show some love with a rate/review) and on
iTunes
for all you tech savvy individuals.
She has also set up a
Go Fund Me
account where you can become an all time legend by helping out a great artist by supporting their dream and donating some dosh if you have any. At the moment she is just over halfway on her goal and we'd love to see her hit her target so we can have some more insane punk rock tunes! All donations over $25 will receive a free copy of her EP and a tshirt so you're basically losing money not doing it.
You can keep up to date with all Bianca's doings by following her
FaceBook
page and keep an eye out in the very near future, there may be another
Bakehouse Presents
show featuring her soon!
Powered by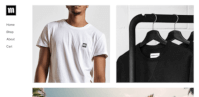 Create your own unique website with customizable templates.