Interview by Jacinta Hriskin

Earlier this month, Battlehounds released their first single for 2015 with the epic garage tune Visions. In support of the single release, the boys have a run of shows including one this Saturday afternoon at The Exeter Beer Garden alongside Miss Fellows, with festivities kicking off around 4pm. we caught up with Alex in the lead up to this weekends show about what they have in store for the rest of the year.
Battlehounds, with a name like that do any of you own a hound?
Dale came into hound parenting through circumstance. His house mate has a dog called "B", she's pretty chilled. Marsh had a rabbit called pumpkin, which was a pretty rock and roll pet, we'd all pat him before shows, so bloody soft. I don't have a hound or pet but I used to have a Boxer called Ali, I'd love to have a hound again soon, probably called Ian.
But let's get more to the point, what was your inspiration for the band name?
I don't really know to be honest. It kind of just happened. I think we just thought the words Battle and Hound sounded cool together. I don't know if it's a cool name but no one has ever told us it wasn't, but you never know. We'll stick with it for now.
You guys have become well known in the Adelaide music scene, and I want to know, where is your favourite place to play and why?
The Crown and Anchor definitely. It's our kind of venue. The room is great and the P.A suits our sound really well. It's a definite favourite of ours and they've been really supportive of us from the start. If I had to pick a second it would be Jive, the room is great and the stage sound is brilliant.
When you're not playing gigs, what would be your ideal

Saturday

night?
Dale has a tiki bar next to his collection of surfboards. A few beers at his house with some mates followed by a Battlehounds tradition of a Burrito and then going to see a band we love somewhere. If we're lucky we'll end it with Azz from Glass Skies DJing the rest of our night.
Your video for your latest single 'Visions' is incredible! How did you come up with the concept?
Our old bass player Tom Stevens (Kids With Teeth, Daylight Braves) has done both our videos. He's a psychopath secretly, at least we think that because of the stabbings that have appeared in both our clips so far. In all seriousness though, Tom is amazingly talented and obviously being a previous member he's close to the music so we love working with him. He's based in Melbourne so we've never actually been on a shoot with him but we're always on the same page so it's great.

Talk us through the process, did you guys provide much direction for the clip or did you prefer to leave it in the hands of professionals?
Much like Ghost Mountain we didn't really have an idea of what we should do for a clip. We wanted to do something a bit different but didn't have any solid ideas. I sent Tom the song and he came back with a concept which we really loved and it went from there. We gave Tom full control with the clip, he's a guru at what he does so we knew whatever he came up with would be pretty damn good.
What were the first live concerts you boys ever attended?
I (Alex) went and saw The Dandy Warhols at the Thebby in 2001 when I was about 13, that blew my mind. They were at the top of their game and hadn't lost it yet. I remember they looked so fucking cool and sounded so big. I also saw 28 days that same year and thought the opposite, but you live and you learn though don't you.
I think one of the gigs that really blew us away as a band was when we played with The Peep Tempel. Those guys are so so good. They're the kind of band you play with and make you want to go jam straight away. They're so tight and such a beast live they make you push yourselves as a band.

If you could play with any artist or band at any venue in the world, who and where would it be?
The obvious one would be QOTSA in the californian desert but we'd be too nervous and they would make us look so shit that we'd probably leave before we even had a chance to play. Maybe a show with Black Rebel Motorcycle Club in a sweaty bar that's jam packed. That would be pretty damn cool. We're all obsessed with this band called All Them Witches at the moment who are bullshit cool. Any of the three will do I guess, if anyone wants to make it happen...
Can you give us a little insight into the future of Battlehounds. What else can we be expecting in 2015?
We're aiming to get another single out in the next few months but it really depends on timing. Marsh and Dale are both going away for a couple of months so it's going to be a lot of writing for the EP. Our sound is always changing so it's hard to decide which songs to put on the EP, it's definitely in the works though. Hopefully we can get to Melbourne and Sydney more. We'd love to get up to Brisbane too and maybe some regional shows in the future. First priority is definitely getting these songs ready for release.
Good luck

this Saturday

for your single launch at The Exeter, I'm sure it will be a banger!
Let's hope it
Powered by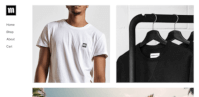 Create your own unique website with customizable templates.