Interview by Ian Hooper
Behind a reasonably unassuming and awkward smile there is a lot within the mind of
Alister Douglas
. Currently, both his solo projects (
Firs
and
Blush Response
) are gaining plenty of respect locally and interstate (
see Lowtide give him the thumbs up here
), and few musicians have been as prolific, varied, and as consistent in their creation of quality and catchy Adelaide tunes. Even Radio Adelaide's resident music expert
Luke Penman
has previously commended Douglas for being the most featured artist across his playlist of Adelaide's best releases. If you want to understand the girth of his participation in the music scene over the last decade, he says it best himself:
'I started playing in bands around Adelaide in.. 2005? I played bass for a band called The Art Therapists, with Tom West (now of Traveller & Fortune and a solo career) straight after high school. Since then, I've played in The Warsaw Flowers, 20th Century Graduates, Mountbatten, Wild Oats, Alphabette, Tom West's touring band, and a brief stint in both Bedwetter and Hello, Lover. The first time I played my own music live was as Firs, in early 2013. Since then I've started writing and recording under the name Blush Response'

What Douglas has done is no mean feat - those are some incredible bands that cross some of Adelaide's most successful scenes. Impressive, huh? He could have been behind some of your favourite tunes and you might not have even known.

WHAT. He is involved in production?! With some training under his belt, the custard-loving Douglas has also been getting involved with the technical side of music:

'As far as production goes, that's mostly been a means to an end.. just a way I can record my stuff (and stuff I'm involved with) at home. In addition to my songs, I've recorded Tom West's 'A Spark In The Dark', recorded and mixed Hello, Lover's 'No One Cares', and mixed Alphabette's debut EP 'Round These Parts''

And with these years of wisdom it was worth asking the question that I always want to hear from an artist's perspective: How is the Adelaide scene? This has become especially relevant given the recent (and valid) debates around the Stigwood Fellowship and government support:

'There's been a dialogue opened up in recent years about making the local scene "vibrant" with a few different initiatives being put in place, but I'm yet to see much tangible change in the local scene...One thing that I have noticed (or maybe just become aware of) is more sub-cultures and collectives forming. People like Format, Fourwords, Lost City, Animal House, Sam Wright's many endeavours, they've all been tireless working away to make the Adelaide scene an exciting place.'

But before we digress…when listening to both his current projects, there are some shared ideas and sounds. Both involve his love of reverb and sound-buried breathy vocals, but both also have their differences.

'I do see a definite split in my two projects. At the most basic level, Firs is completely synth and sample based and Blush Response is all "traditional" instruments. There's also a bit of a personality difference, too, I guess. Firs is a bit more self-aware and, dare I say, not afraid to be cheesy. Blush Response if probably a more true reflection of me as a songwriter. They definitely share stylistic and thematic similarities, though. I think that's inevitable.'

One of these themes is the concept of sleep. With full-time uni and three bands I daresay that it would be something that could be easily neglected.

'A good number of my songs, or lines of lyrics within a song, in both Firs and Blush Response refer to sleep. I have a weird relationship with sleep. I often can't sleep when I want to, and then am verging on narcoleptic when I shouldn't be. I hate the feeling of falling asleep when the sun is up and waking up when it's dark. It's so disorientating. I fear things changing when I wake up. I fear sleeptalking.. like an unreasonable amount. I guess because I don't understand my relationship with sleep, I write about it. In order to try and make sense of it.'

And for those wondering, Blush Response is coming. It is coming real soon. With a 'bits 'n' pieces' Jazzmaster and a swathe of pedals it seems our ears will be bleeding this summer.

'I'm just in the process of getting a band together now, actually, so hopefully a live appearance won't be too far away! I had my first practice with Luke (Central Deli Band and fellow 20th Century Graduate) and Tony (The Honey Pies) last week. I thought it went really well! Though.. I don't know how they felt about it. Maybe I shouldn't have revealed their names in case they tell me "it's just not working".'

And now we cross the electronic plains from Al's love of loud guitar to a quick stint in synth city. I asked Al to explain how Firs even came about and how the transition from band-to-solo went for an artist involved with so many multi-people projects (cue nostalgic photo of Grads):
'It's great to be playing Firs stuff live. It's not so much that it's solo that I enjoy it, just the fact that I'm actually getting out there and doing it. I have a tendency in music (and probably generally) to over-think things and never actually commit to doing something. Firs started as a bedroom recording experiment after I bought a MIDI keyboard for another project and found that it came bundled with some cool synth plugins. I was just messing around with them and all of a sudden Firs was a thing. The fact that it was just me meant I had no excuse to not perform live. I'm constantly conflicted about performing electronic music solo, as I've always had an aversion to playing to backing tracks and playing pre-recorded loops, but it's hard to avoid with this kind of music. I've worked my live set up to a place where I'm playing as much as I possibly can at one time, if only to appease my inner cynical critic.'
So for someone with so much under his belt what local bands get Alister excited?
'I think my favourite Adelaide band would have to be
The Sunbirds
. 90s slacker shoegaze. They're just too good! And Jamie is easily one of the most engaging frontpeople I've seen (and I'm not just talking Adelaide). Other notable mentions are
Swimming
(their minimalist RnB grooves never cease to impress), Lonelyspeck (a one man ethereal-electro production wunderkind) and Hello, Lover* (apathy-core at its finest, dour but utterly fantastic).
*Full disclosure, Larissa from Hello, Lover is my housemate.'
The honesty and transparency is definitely appreciated.
With Al being involved in so much it would be silly to think you would ever miss him. You can catch him next playing with the ever so sweet Alphabette on August 30 at Rhino for
fourwords' 4th birthday party
. This will also involve the release of their latest single, 'New', and include acts such as Andras Fox. I also hear there will be NBA Jam on Super Nintendo...does more need to be said?
Well, maybe I'll give Alister the last words for you to ponder during moments of procrastination:
'All the things, all the time.'
Listen to all the latest tracks from all of Alister's projects/bands below. 'Name your price' means you can get them for free but you should be nice and support with a little spare change.
Powered by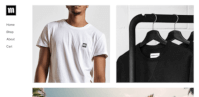 Create your own unique website with customizable templates.