Written by Doug Aichi

Read at your own discretion...

Foot or a hand?
Hand. Opposable digits are vital to music.
But like, if you were just a hand or just a foot.
I'd still be a hand, and I'd get one of those finger skateboards from high school.
Who would you rather have sex with: your mum or your dad?
Am I still a dismembered hand?
You can be if that makes it easier.
If I'm a dismembered hand, then my dad.
Any particular reason?
He's just very attractive.
Cat's buttholes. Discuss.
I'm allergic to cat hair, so one level they're probably the part of a cat I am least repelled by. But I am still reasonably repelled by them.
What kind of pasta do you like?
I go to Lucias twice a week, and it is probably my favourite place in the world. Last time I was there I ate spinach ravioli in a rose sauce with extra basil and ricotta. But all pasta is amazing with the exception of tuna mornay. Which is my least favourite food in existence.
It is probably my least favourite thing, food or otherwise, in existence.
What is the best life decision that you probably will never make?
Is this a standard form thing like the Proust questionnaire or are you making these up on the spot?
Probably just the decision to be more open and optimistic if that's a thing you can just decide. If not that, then accepting Christ as my personal savoir or taking out a gym membership probably wouldn't kill me either.
Fill in the blank: [Blank]: it could save your life.
If you were try and shoot yourself and your gun was loaded with blanks, that would save your life. So I'm going to leave it as is.
Who is the brother that you will never have/would possibly prefer?
My brothers pretty fine as is, but if he could play another 20 instruments or so that'd be very useful.
What would you prefer:


to have your penis hanging out of your pants for 5 hours of every day



be inside a gorilla. sexually. 5 times.


5 hours outside of my pants, every day for the rest of my life, versus inserted into a gorilla 5 times ever? As a once off?
Yep. Rest of your life. Gorilla is a once off.
Does anyone know I fucked a gorilla, or is it my secret? And does the gorilla consent to it?
It is consensual to the extent that it can be. The gorilla wants the sex. And it would be your secret. Some people may be worried why you would be off from work for a few weeks though.
If the gorilla is into it, and no one has to find out, I'm down for a Goodall time.
If you could be any character from the hit TV show, 'You're Standing On My Onions!', who would you be?
The wacky neighbour. He's always standing on that other guys onions.
Do you remember what his catchphrase is?
'These onions are making me teary.'
Then he'd go into a racist tirade.
If you could have one animal body part, which one would it be?
I read the other day that if you cut up a turtle at 150 years of age, it's organs are basically exactly the same as when it was young, just as functional and you can' even tell the difference. So whatever part of their DNA makes them like that, that'd be pretty cool to have. Not having to worry about your insides falling apart as you get older.
That's probably still cheating though isn't it?
What is next for the Honey Pies?
The bands still going but we're sort of hopping around on one leg. There's an album in the works and I have some projects in mind for after that, but everything just takes a lot longer to do because Marcus and I are pretty busy these days. The record should be out in the first half of the year I'd hope. Half the songs on the record are probably 90-100% finished, and half are maybe 25-50% finished. Our whole process has changed because we have to work in the small gaps of time we have, and we're doing everything from home. It's slow going, but it is going.
Powered by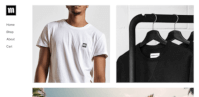 Create your own unique website with customizable templates.