Words by Brett Pike
There's something truly amazing about seeing your friends up on stage doing what they love and completely nailing their performances as well, particularly so when they are performing songs that have a deep connection between themselves, the audience members, and in your own personal formation. Many Australians who grew up through the end of the 20th century recognise
Crowded House
as one of our finest musical talents, and we caught up with sister act
Sitara
, comprised of artists
Erin & Tess Fowler
, about their
Crowded House tribute show
and its significance to them.
Like for so many Australians, including yours truly, many if not all of our earliest exposures to music have been through our parents records and the choice of soundtrack through Saturday afternoon barbecues and dinner parties.
The Eagles, Fleetwood Mac, Cold Chisel
and
Paul Kelly
just to name a few. Another staple has also been the music of
Neil Finn
and
Crowded House
. You'd be hard pressed to find any music lover unfamiliar with
Weather With You
or
Don't Dream It's Over
, and it's a love of the music that forms such a deep connection between sisters
Tess
&
Erin Fowler
with their proud parents watching on.
Erin: It sounds like a cliché but they're still the best, their reactions are still the most heart warming and they come to every show.
Tess:

They're very supportive and amazing and literally the reason we're doing this. Those 90s dinner parties with the cockatoo placemats!

Tonight dad came up to me and said "That was 110%!"
Erin: Well he said 120 to me so…. *flicks hair*
Like many of us growing up with the music of our parents, many songs we hear these days are able to draw old memories to the surface and take us back to a time we may have thought we lost. Family trips, down the coast, interstate and everywhere else we may have been lucky enough to travel to can all be recalled as soon as that opening chord kicks in.
Erin: I think the story tonight that Tess said, 'Weather With You', like we would go to Queensland in the winter (to get warm) and every time we would get there and everyone we met would say "Oh it was beautiful yesterday!" and it would be terrible weather wherever we went. We used to play 'Weather With You' everywhere we went. We would just sing that song over and over again in the car all the time.
Tess: We were travelling through Ireland. Ireland, travelling through Ireland! No but really all over the world, it would be forecast for sunshine and blue skies and we would get there and the rain and the heavens would just unleash.
As musicians, their dynamic on stage is infallible. As sisters, they know each other better than most ever will, understanding each others strengths and weaknesses, when to make way for the other to shine and when to take the spotlight themselves. Not without its drawbacks, they pull it off remarkably well.

Erin: It definitely has its terse moments of stage, not that many, but it definitely gives up more freedom to get annoyed at each other which we do but I have to say, every time, like Tess said, we see something (in the other) and we just love hearing each other sing and I just love singing harmonies with her. The performance bit does make up for any stress.
Tess: I was looking at you tonight on stage and you were glowing and thinking "oh she looks so beautiful and she's so fantastic". We wouldn't be able to do it without the other. If Erin hadn't picked up and starting learning the guitar and playing music with me, I wouldn't be doing it.
Erin: It's a pretty nice thing to share.

This year marks the first time the two have been able to put together this show, it's an interesting prospect when your projects finally spring to life. Having fostered the thought of them for several years, the two have finally been able to get the show together in such spectacular fashion.

Erin: I think the best thing is seeing how much the audience loves it.
Tess: Yep, I think tonight was amazing for that too. The whole front row were just swaying and singing. When I went to the Neil Finn concert I think it really hit home hearing him perform it, it just hit home about how beautiful the songs were and how much they mean to people. I think even I for 'Fall At Your Feet' was crying, it was really emotional and I think the songs mean so much to people. That's been the nicest part. There was a lot of pressure at the start but it has been really lovely.

The sisters will be performing their
final fringe show TONIGHT
at
The Mill
on Angus St. There are still a couple tikkos left, head on over and farewell the crazy season in fine style with a performance that is going to fill you with emotions, wholesome experiences and a damn fine appreciation for some of the incredible talent our fine city has to offer.
Powered by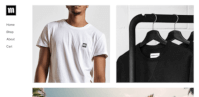 Create your own unique website with customizable templates.